Fox News may make some liberals see red, but only the most die-hard ideologue would deny that Rupert Murdoch's cable television network has done one thing very well: It found an unsatisfied audience and gave those viewers exactly what they wanted. The result? Fox News' ratings have consistently led its competitors for a number of years now.
But Fox News Digital's trio of free apps for the iPhone—Fox News, Fox Business, and Fox News UReport—achieve somewhat more mixed results. The first is surprisingly newsy, with the opinion-driven core of the television channel seems to be an afterthought. The second contains a fun feature to get Fox's fledgling business channel off the ground: A live video feed. And the third app? All but pointless.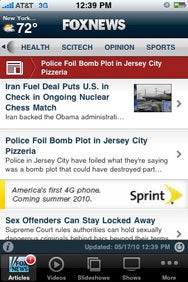 First, Fox News: Right-leaning pundits like Bill O'Reilly, Glenn Beck, and Sean Hannity are the face of the television network, but are more difficult to find on this app. Instead, Fox News greets you with a series of news headlines largely culled from wire sources like the Associated Press; you can thumb through a number of news categories before finally arriving at the Opinion section—and those offerings are largely dominated by relatively anonymous conservatives instead of the channel's leading lights.
The Videos section of the Fox News app gives you more flavor from the actual channel, culling highlights from the day's news programming. It's the Shows option that finally lets you experience Beck and O'Reilly—but only in part. While the Fox News Website for those personalities offers links to transcripts, columns and other projects by the pundits, the app offers only short video clips. Not bad, but if you're downloading the Fox News app to get more face time with Hannity, you're probably in the wrong place. If you really want to spend more time with the cable channel's marquee name, you're better off using the app's Audio feature to listen to radio programs hosted by Fox personalities.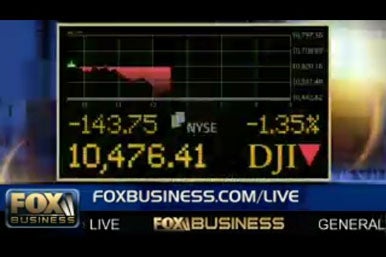 Perhaps because it isn't laden with the ideological baggage of its sister channel, Fox Business comes across as a solid financial news app. The front page offers a glance at the major stock indexes, along with a series of the top news headlines and short videos from the channel. Like the Fox News app, Fox Business offers push notifications of updated news.
But what separates Fox Business from, say, the Wall Street Journal's iPhone app (also part of the Murdoch empire) is the live video feed. True, you won't need it if you're near your computer or a television, but it's still neat.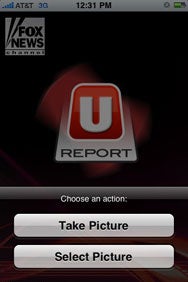 As for the UReport app? It's a simple one-trick pony that lets you submit newsy pictures to Fox News. The only problem? A recent glance at the Fox News site revealed that its UReport page hadn't been updated in more than month—and UReport pictures that had been featured on the television channel hadn't been updated since 2008. The UReport app is easy to use, but there's little promise that using it will produce any results.
In the end, the Fox News and Fox Business apps are solid and newsy, but they don't feel all that Foxy. Whether that's good or bad might depend on how much you want access to political rabble-rousing from the comfort of your iPhone.
[Joel Mathis is a freelance journalist and political columnist for Scripps Howard News Service. He lives in Philadelphia.]