PictureShow, a mobile photo-editing app by Graf, has been updated to version 2.0. The new version adds new photo styles, a randomize mode in which you can mix various frame styles, light effects and noise effects to create wild and zany results, and the ability to share photos via Flickr in app.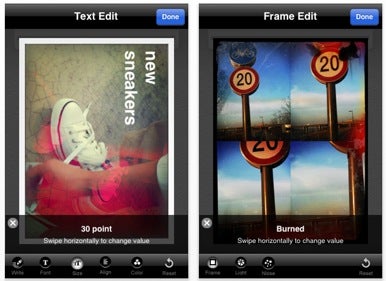 PictureShow fits in nicely with the current crop of photo apps meant to give pictures taken on your iPhone a vintage or retro vibe. But while PictureShow gives you numerous ways to make your iPhone pics looks like they were taken on a vintage camera, a la Hipstamatic, or Plastic Bullet, it also provides a number of cool special effects. Photo styles include Noire, which simulates the tone of black and white French movie posters; multi exposure, which produces complex and unexpected images; and retro style, among others. It also has color, contrast, and brightness control. If you have trouble making up your mind, you can hit the randomize button, which will randomly generate effects for you.
You can also add frames, borders, and text to your photo, and once you've tweaked it to your heart's content, you can share it in app via Flickr, e-mail, or Blogger. PictureShow, which sells for $2 at the App Store, works with all models of iPhone, iPod touch, and iPad running iPhone OS 2.2.1 or later.