Fox Sports Interactive has teamed up with 2ergo and Audi to come up with an iPhone app to tackle the FIFA World Cup kicking off next week in South Africa. For the millions of iPhone-owning soc… I mean football fans around the world, this free app, called Fox Soccer Ticket to Africa, should provide enough information to get you ready for the big event.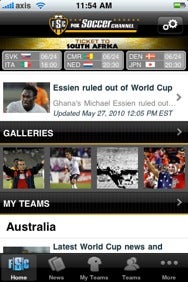 While the app won't actually let you watch the games live, it promises to keep you up to date with all the news and information coming out of the World Cup. It has all the match schedules and locations; photos and videos of the matches, players, and fans; post game analysis; and a live score strip. It also promises team and player profiles, live statistics and play-by-play.
Team roster and player profiles weren't available at launch, but according to a Fox representative, they are coming as soon as the information becomes available. (Many teams are still finalizing their rosters prior to the June 11 kickoff.) In the meantime, you can get up to speed on the tournament by reading about its history on the app and finding out information about each host venue and city from the included guides.
See Macworld's collection of essential World Cup apps
If you're a fan of specific teams, you'll be able to curate news according to your team preferences into a list that the app maker calls My Teams. This is essentially filtering all the incoming bits of information according to the teams you care about, so you can tune out the ones you're not interested in. You can also share news updates from the app to your Facebook account or via e-mail.
Fox Soccer Ticket to South Africa works with iPhone OS devices running 3.0 or later.