If you're anything like me, you may appreciate nice, modern design when you see it, but that doesn't mean you're able to create it yourself. Wow.inc can help with its $3 AddLib app for the iPhone and iPod touch. AddLib takes your iPhone photos and turns them into individual graphic design pieces.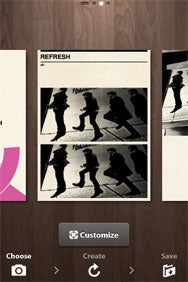 Using algorithms that call on a number of classic design theories such as the Grid System and the Golden Ratio, AddLib incorporates your photo into a variety of bite-sized pieces of design. You can add one or two lines of text to the image as well, and these will be incorporated into the end result—sometimes playing a large roll, sometimes adding a subtle touch.
When you launch AddLib, you choose to either take a new photo from within the app, or to select an existing one from your photo roll. After you have your photo, the app basically takes over. You're presented with three design images immediately. There's also a refresh button, which you can tap indefinitely—each tap presents you with a new take on your image. Once you've found a design you like, you can save it to your photo library, e-mail it, or send it to Twitter.
Even if you have no background in graphic design, AddLib is a creative and fun way to add a new look to some of your photos. The app does the heavy lifting, and you can sit back and wait for the design that you like the most.
[Macworld contributor Beau Colburn lives in Boston and posts iPhone photos on his site Snap different.]