Editor's Note: The following article is reprinted from Macworld UK. Visit Macworld UK's blog page for the latest Mac news from across the Atlantic.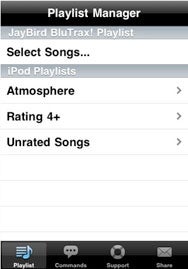 JayBird Gear has announced JayBird BluTrax is now available for iPhone, iPod touch and iPad. The app lets users remotely control iTunes via Bluetooth JayBird headphone and other Bluetooth headphones.
Using only the Play/Pause button, JayBird BluTrax lets you skip tracks from your JayBird Bluetooth headphones.
While music is playing and JayBird BluTrax is open, pause and then play your music again within three seconds. Once that three second timer expires, it will skip to the next track. Add one more pause before the timer expires for back track.
If you want to adjust the Sequence Time to make the process quicker or slower, you can do that in the Settings app. JayBird BluTrax works with the screen locked as well, as well as many third-party Bluetooth headphones that can reliably play and pause the iPhone.
Available from the App Store, JayBird BluTrax costs $5 and requires the iPhone 3.0 Software Update. JayBird offers a range of Bluetooth headphones and adapters for Apple devices and MP3 players.