Pixel Qi, a display start-up that's generating buzz with a laptop screen that works well under indoor and outdoor lighting, showed off prototype touchpanel versions of the new display on Tuesday.
Pixel Qi's screen technology combines a bright backlight for good indoor readability with a reflective layer that makes it easy to read in bright sunlight.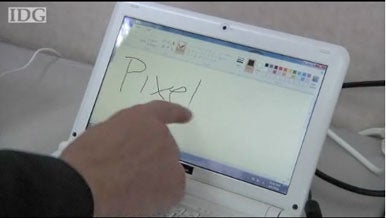 That combination has many laptop and tablet PC vendors evaluating the screens for use in their products. With the launch success of Apple's iPad, touchscreens are becoming a hot item but the addition of a touch-sensitive layer to a screen typically means a drop in readability for reflective screens.
"When you are putting [a touchpanel] on top of a screen that is mainly reflective it's quite difficult," said John Ryan, chief operating officer of Pixel Qi. "The capacitive layer makes it quite yellow and fuzzy and it also dramatically cuts down the intensity of the light, so we've had to work a lot on resolving both of those."
Pixel Qi developed the prototype screens to show it's possible to combine a touch-sensitive layer with its display technology and not see those problems.
The screens were on show at Computex, the Taiwanese IT trade show that Pixel Qi used to launch its display last year.
Several companies were showing Pixel Qi screens in computers on the show floor, but none announced firm commercialization plans.
Shenzhen Chuangzhicheng Technology, a Chinese company that makes laptops for computer brand names, said it's considering using the screens in laptops and tablet PCs to improve readability outdoors.
"Already one customer from North America is asking about this technology," said William Hsu, director of the company's products division. "The customer is impressed, it's a great improvement when used in a netbook or tablet."
The Pixel Qi screens are based on display technology developed by Mary Lou Jepsen, formerly the head of Intel's display division and chief technology officer at One Laptop Per Child (OLPC). The screens have been drawing praise and interest ever since their debut last year and the company has been mass-producing the displays since the beginning of this year.
It's now looking at screens in other sizes.
"There's great demand to have screens in other sizes," said Ryan. "We can't announce anything yet. We've revamped the screen that Dr. Jepsen created for One Laptop Per Child, which is a 7.5 inch and we will have that available for commercial use later this year. We're also anticipating having screens in smaller sizes for devices that are very much more mobile-application orientated, two, four, seven or eight inches, so we should be able to announce those in the coming months."
When you purchase through links in our articles, we may earn a small commission. This doesn't affect our editorial independence.