While Apple has lately appeared to have improved its App Store approval process, there are still some decidedly rough edges. Take the case of MyFrame, a digital photo frame app for the iPad: the program was removed from the App Store this week for somewhat murky reasons, according to the developer.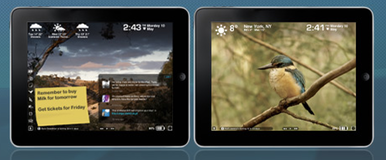 Russell Ivanovic, a developer for MyFrame's Groundhog Software, reported that the company received a phone call from an Apple employee about the program's removal. The employee said that the app was being removed as part of a wholesale removal of "widget" apps from the store. MyFrame allows users to put overlays on their photos with the time, weather, music controls, sticky notes, and more.
Furthermore, not only had MyFrame been on the App Store for some time, but Apple had already approved multiple updates to the program without any flags being raised. While Groundhog is primarily a Java enterprise developer, the company had recently branched out onto Apple's platform with its first app, Tennis Stats; MyFrame was only its second application.
No specific prohibition on "widget" apps appears in Apple's developer agreement, unlike the well publicized— if murky—bans on pornographic or malicious content. Groundhog was not told what it could do to fix the program and resubmit it, or to whom it could appeal the decision.
"It's a lot harder to invest time and money in a platform when the risk is that even after your application is developed it can still be removed," Ivanovic told Macworld by e-mail. "Not for violating existing rules, but for violating new rules that Apple makes up after the fact."
Ivanovic also penned an e-mail missive to Steve Jobs, and received a reply reading only:
We are not allowing apps that create their own desktops. Sorry.
The response would seem to suggest that Apple is targeting applications that mimic a desktop computing environment, possibly in advance of the release of iPhone OS 4.0, which includes multitasking capabilities. Similar apps, such as Desktop for iPad, appear to likewise have disappeared from the store.
"We only want two things from Apple," said Groundhog CEO Grant Steinberg in a separate e-mail. "Clarity and consistency. That's it, then let us do our job and ultimately the customer will decide if we did it well."
Apple's developer agreement does say the company can remove applications for reasons not covered in the document, which understandably makes many developers uncomfortable. MyFrame was an established product that was removed with no warning, and there's no other option for Groundhog to distribute the app as is, short of porting the entire program to another platform like Android, which would require a not insignificant amount of time and effort.
And the MyFrame situation isn't about to ingratiate Apple with developers at large. Ivanovic had penned a previous post largely supportive of many of Apple's decisions about the App Store; needless to say, he's rethinking that position in light of MyFrame's treatment.
"I suspect this will make us a lot more cautious in future, especially when it comes to releasing new applications," Ivanovic said.
It's not a far stretch to say that many other developers might undergo a similar conversion should they find their own products in Apple's crosshairs.
As the iPhone is poised to take the spotlight at next week's Worldwide Developer Conference, it's certainly bad timing for Apple to have these continuing issues once again brought to the forefront. And despite the anticipation that has built for iPhone 4.0, addressing concerns about the App Store would be a welcome development.