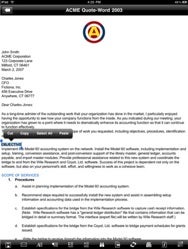 On Tuesday, Dataviz, purveyors of Documents To Go for a variety of mobile platforms, released version 3.3 of its flagship app. The new version brings a handful of new features and localizations, the most notable of which is answering our iPad app wishlist with a native version for Apple's latest gadget.
That's right, Dataviz just handed a huge pair of scissors to iPad owners who have been itching to cut the productivity umbilical cord from their Macs. Documents To Go Premium 3.3 is now a universal app for iPhone and iPad. Not only does it support the inter-app file sharing features of iPhone OS 3.2 on the iPad (such as opening Mail attachments and iTunes drag-and-drop), but Dataviz also added support for MobileMe and SugarSync to its already impressive list of compatible file storage services, which includes Google Docs, Dropbox, and Box.net.
This means that iPad owners can now enter their Dropbox or Google Docs credentials into Documents To Go, open a Word, Excel, or PowerPoint document, make changes, and sync it back up to the cloud service. No USB cables, no iTunes, and no clunky e-mail workarounds required. Documents To Go can also view PDFs and even view and edit compatible attachments from your Exchange and Gmail accounts.
Documents To Go Premium requires iPhone OS 3.0 or later, and it's available now in the App Store on a Memorial Day sale of $12 (down from its usual $15). Dataviz also submitted a version 3.3 update to its non-Premium edition of Documents To Go for iPhone, which brings iPad compatibility, but not some of the Premium-only features like support for MobileMe and SugarSync.