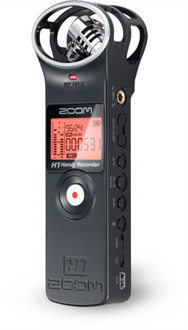 Hardware maker Zoom has announced the introduction of the latest addition to its line of portable recorders, the H1 Handy Recorder, which it has dubbed its "smallest recorder ever."
Weighing in at only 2 ounces, the H1 sports many of the features that set Zoom's products apart, such as the X/Y configuration of its microphones, which ensures the even recording of sounds with minimum cross-interference, long battery life and support for a wide variety of recording formats that can deliver up to 50 hours of recording time with CD-like quality.
Like many of its predecessors, the H1 is priced to sell: $99 will get you the base package, which includes an AA battery and a 2GB microSHDC memory card. (The device can accommodate up to 32GB.) The recorder features a USB port, through which it can be connected to a computer for power or for use as an external microphone.
In addition to the smaller form factor, the Handy Recorder comes with a brand new user interface that foregoes the traditional menu-based approach in favour of a series of on-board buttons that can be accessed with the thumb.
The base H1 model will be available on July 30. An optional accessory package, which includes a USB AC adapter complete with cable, an adjustable tripod stand, padded case, clip adapter and afro windscreen will also be available for an additional $25 at the device's launch.