The search for an internship can be all consuming, so the idea of a portable app with listings is a particularly handy one. Internship Seeker, a free app from Internships LLC and powered by the Internships.com Website, makes a good attempt, but with mixed results.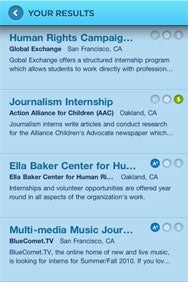 The app's interface is clean and simple, offering a pleasant shade of blue and two search bars. One search bar handles the type of internship you're seeking, while the other looks up the city you'd like it to be in. The results are displayed equally, with each listing displaying icons that indicate whether the job is for-credit, part-time, or paid.
When you select a listing to expand it, Internship Seeker provides a description and requirements, as well as buttons that let you share the entry via e-mail or Facebook. Everything could not be more straightforward or user-friendly.
Unfortunately, the problem lies not with the app, but with Internships.com itself. As a well-seasoned intern, I use several different Websites to find listings, and I have never once used Internships.com or ever had it recommended to me.
When I searched journalism internships in San Francisco with Internship Seeker, eight listings came up, only one of which was for a publication. This is because the app searches the listings for your keyword, and there are a lot of public relations and communications internships looking for people with journalism degrees.
Organizing the listings with categories would probably narrow the parameters a bit. Though I was underwhelmed with the results for my personal situation, I did find quite a bit more listings for public relations and law internships and San Francisco, as well as journalism internships in New York City.
So maybe it's a matter of location, or maybe certain industries are more partial to using Craigslist. Either way, as long as you've got the right combination of career aspirations and location, Internship Seeker is great. And if it doesn't work out, at least the free app won't set you back at all.
[Meghann Myers is an editorial intern at Macworld.]