Editor's Note: The following article is reprinted from Macworld UK. Visit Macworld UK's blog page for the latest Mac news from across the Atlantic.
Spain's iSobre has introduced its latest sleeves for Apple's iPad.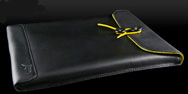 Also made from 100 percent leather, the Bumble Bee is billed as a premium high quality full-grain cowhide black leather envelope, made from deer skin using a black natural tanning finish in a two side tanning process with a yellow interior made from a suede like finish for additional padding. The Bumble Bee costs €89.99.
iSobre ships worldwide from a base in Cadiz, South of Spain, in the Andalusian Region.
Note: When you purchase something after clicking links in our articles, we may earn a small commission. Read our affiliate link policy for more details.