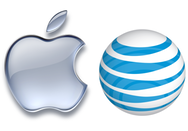 I'd long expected that when AT&T finally announced its support for iPhone tethering, owners of the device would rejoice. Instead, AT&T bundled its announcement about tethering with significant changes to its data plans. While some of the changes certainly seem positive, AT&T's approach to tethering, along with its plan for data overage fees, strikes me as rather hostile to customers.
First, the good news: I think most customers will be able to get the $5 per month savings of using the DataPro 2GB plan for $25 per month over the current $30 per month rate. Many customers will save even more if they can keep under the 200MB monthly data cap for the $15 per month DataPlus plan. If you go over your DataPro account's 2GB, you get charged $10 for each additional gigabyte you go over. I think that's fair. In the end, it would only penalize iPhone power users—an audience AT&T claims is limited to 2 percent of its customers—by $5 over the current $30 unlimited plan to burn through 3GB, and that's tough to do.
But for lighter-use customers on the 200MB plan, the overage charge is higher, at $15. So if you exceed 200MB, you're now paying a minimum of $30 for that month's data. And it's important to note that the $15 overage fee doesn't score you the same extra gigabyte that DataPro users get; it's only buying you another 200MB. So if you go over 200MB, you pay $30—the current unlimited data fee—for up to 400MB.
Obviously, if AT&T were taking the benevolent route, the company would simply seamlessly upgrade your account to the 2GB plan if you exceeded your 200MB allowance, charging you the difference between the two plans. Instead, you're forced to gamble on whether 200MB is enough. If AT&T allowed you to accumulate "rollover" data, like it does with cell minutes, that would obviously make the gamble considerably less stressful for customers.
Even more troublesome than the new overage policy, though, is AT&T's tethering plan. While an extra $20 per month for tethering isn't the most expensive tethering plan in the United States, these fees are still reminiscent of the era when Internet Service Providers wanted you to pay extra for each computer in your home that you wanted to get online. What makes AT&T's $20 tethering plan so ridiculous, though, is the fact that it doesn't provide any extra bandwidth.
That is, you're paying $20 for the privilege of sharing your iPhone's internet connection with your laptop while on the go—and that's it. If you already think it's easy to burn through a couple gigabytes on your iPhone (with Pandora, YouTube, and heavy Web surfing), think how much faster the data adds up on your MacBook Pro. Paying $20 merely to share your iPhone's Internet connection—which iPhone jailbreakers and many other cell phone owners can already do for free—stinks. The tethering plan should add a minimum of another 2GB to your allowed data usage to justify its cost.
AT&T notes that tethering—first announced by Apple in June 2009, and supported by other iPhone carriers all over the world already—won't actually be available for U.S. iPhone customers until the release of iPhone OS 4.0 later this summer. But by the time it's available, perhaps you may well have concluded that it's just not worth it.
[Frequent Macworld contributor Lex Friedman shares more insights and complaints about things other than AT&T on his blog.]