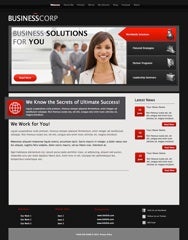 iWeb Themes Park (you get three guesses as to what the company specializes in) has released five new template packages for Apple's WYSIWYG Web design app. It is also offering a new, more flexible bundle package to customers who want to buy more than one theme.
The five new iWeb themes—Impressive, Real Estate, Sportive, World Key, and Grey Symbols—are geared primarily toward businesses. Real Estate, for example, can be used for selling, renting, or buying property, while Impressive features a trendy business layout and stock graphics designed for selling products and services.
With the introduction of these new themes, iWeb Themes Park's catalog now tops 30 themes, which are available for purchase individually for $11 each, in one large bundle for $33, or in a new iWebThemesTrio offer. This allows customers to pick any three themes for the price of two at $22.
iWeb Themes Park templates require iLife '08 with iWeb 2.0 or later.