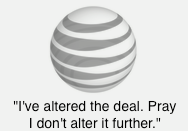 AT&T's announcement of new mobile data plans has received mixed reviews around the Internet. Some like the fact that you can now get a data plan for your iPhone or iPad for as little as $15 per month, and that AT&T has finally told us (approximately) when tethering will be available. Others lament the new plans' lower limits on monthly data usage—200MB for the $15 iPhone plan, 2GB for the $25 (iPhone or iPad) plan—and that you must pay $20 to tether data on a plan that's already limited to 2GB of data usage.
Macworld has provided details about what the new plans mean for you, but the gist is that starting June 7, anyone activating new data service on an iPhone or iPad, whether it's a long-term iPhone contract or a month-to-month plan for an iPad, will have to choose one of the new plans.
While I have a few minor beefs with the details of these plans, I think they're generally fair when compared to other mobile-data contracts available in the U.S. What rubs me the wrong way is the fact that AT&T is reneging on at least one of the promises the company made to everyone who purchased a 3G-capable iPad prior to Wednesday's announcement.
You see, back when the iPad was announced, Apple and AT&T made a big deal about the fact that iPad owners would be able to choose either a $15 250MB-per-month plan or a $30 unlimited-data plan. And both companies made an especially big deal about the fact that these would be pre-paid, no-contract plans—you could activate 3G service when needed, paying only for those months you actually use it.
This no-contract aspect of the iPad 3G's data plans was one of the iPad's best surprises, and it was such a breath of fresh mobile-contract air that it provided a compelling reason to purchase the more-expensive 3G-capable. Indeed, I know more than a few people who, given the promise of no-contract, only-when-I-need-it, unlimited-data 3G wireless, stretched their budgets and spent the additional $130 for an iPad that was otherwise identical to the Wi-Fi model. It was a too-tempting deal for people who don't regularly need 3G data, but looked forward to turning it on for, say, the annual family vacation.
So Wednesday's announcement raised a couple questions: If someone already owns a 3G-capable iPad but hasn't yet activated the 3G service, will they continue to be eligible for the promised data plans? And if someone is currently using AT&T's $30 unlimited-data plan for the iPad, do they need to keep that plan continuously active in order to maintain their eligibility for it?
Unfortunately, AT&T's answers—which we first spotted on TUAW and later confirmed directly with AT&T—include some bad news. As an AT&T spokesperson told Macworld:
On the iPad plans, a customer will need to be currently using the autorenewing unlimited 3G plan on their iPad on [June 7]. After that date, the two data options customers can choose from (and switch between…and only use when they need…etc.) are the 250MB and 2GB plans.
In other words, the $15, 250MB iPad-data plan will continue to be available, and you still won't be required to sign a long-term contract. But unless you've activated the $30 unlimited-data plan for the iPad before June 7, you lose your eligibility for it. And even if you have activated that plan in time, unless you've set up your account to auto-renew, you lose your eligibility at the end of your billing period—the next time you activate service, you'll be limited to the new plans.
So much for an on-demand, no-contract, unlimited-data plan. In fact, by forcing you to activate the plan before June 7, and requiring you to keep paying for it every month, AT&T is essentially requiring a de facto contract—at least if you want to maintain eligibility for the very plan that may have sold you on buying the iPad in the first place.
(And what about people who ordered a 3G-equipped iPad before today, under the assumption they'd be able to take advantage of the advertised unlimited-data plan, but won't be receiving their iPad until after June 7? They won't even get the opportunity to activate their service now to lock in that plan.)
Don't get me wrong: As I mentioned above, I think the new plans are largely fair. And AT&T has the right to change the company's data-plan offerings for new customers at any time. My beef is with the bait-and-switch nature of these changes as they apply to people who have already purchased an iPad. Part of AT&T's (and Apple's) pitch for the 3G model was, "We've got something really unique: an unlimited-data option that's reasonably priced and can be activated and deactivated whenever you want, no contract required." That's no longer the case, just over a month after the iPad with 3G shipped.
Now, you might be thinking, "It's not as if people can't get a data plan for their iPad. The new plans are just different. Heck, for some people, they're actually a better deal." That's a valid point: An iPad owner who uses more than 250MB of 3G data, but less than 2GB, in a month will pay less ($25 versus $30) under the new plans. And it's also true that many users don't need more than 2GB of data in a month…for now. But what about those who do, and bought the iPad with such needs in mind? Or what about a year from now, when even more media is streamed over the Internet?
But such debates are beside the point. It doesn't matter how many (or how few) people will be adversely be affected by these changes. What matters is that AT&T and—by extension—Apple told consumers exactly what they would be getting by purchasing an 3G-equipped iPad, and AT&T is now changing part of the deal after the fact. AT&T should honor those sales-pitch promises for anyone who purchased an 3G-equipped iPad before Wednesday's announcement. And Apple should make sure that happens. But I won't be holding my breath.
Apple iPad Tablet Computer
Apple iPad Tablet Computer