British audio technology company Orbitsound has announced a range of new audio accessories compatible with Apple's mobile devices.
The Orbitsound T12 v2 soundbar is billed as a unique sound system that brings cinema-quality sound to flatscreen TVs without the need for multiple speakers. The T12 v2 promises improved video output capability and Orbitsound's spatial stereo technology, which ensures you don't need to stand in the 'sweet spot' to get the full effect.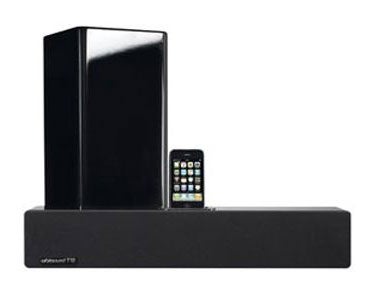 The company notes that on multichannel systems, you can cut an impressive 40 percent on your energy consumption. That's because unlike traditional stereo—which uses two identical power amplifier systems—Orbitsound products use a single loudspeaker alongside two smaller 'spatial' loudspeakers, a more energy efficient way to get great sound.
The updated T12 features additional digital inputs to take audio directly from the latest digital TVs, while an improved sub feeder cable promises to make the system easier to install. Along with a new redesigned remote control the soundbar includes an iPod dock, which is now compatible with the iPhone with this refresh. The T12 also features a 3.5mm stereo jack, and inputs for the latest digital TVs, CD, MP3/MP4, laptop and desktop computers and games consoles. The T12 comes with Works With iPod and iPhone accreditation from Apple.
The Orbitsound T12 v2 soundbar costs $400.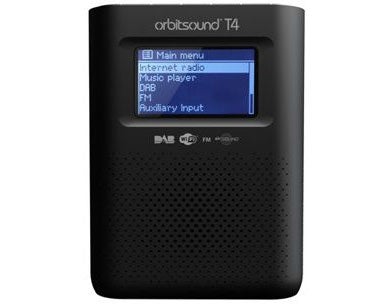 The Orbitsound T4 Radiopod is an iPod dock and radio, which uses Wi-Fi for users to access numerous digital and internet radio stations from around the world. Push-button controls and a dot-matrix display allows listeners to search thousands of stations and podcasts, while a compact design is suitable for listening anywhere.
The T4 Radiopod features a clock—with manual setting, and auto setting from Internet radio—along with an alarm and snooze facility. It includes DAB, internet and FM, all with 10 presets each, and also a DAB+ function. The inbuilt docking station allows for iPod and iPhone input and charging.
The Orbitsound T4 Radiopod costs $250.
The full range of iPhone and iPod compatible accessories from Orbitsound can be found at www.orbitsound.com.
Orbitsound T12 v2 Soundbar