Americans are increasingly sedentary and suburbanized—a far cry from their hardy, pioneering forebears who settled wild lands. For the rest of us, though, Trellisys.net offers SAS Survival Guide, a $7 app packed with information and features that will be fun even for urban couch-dwellers.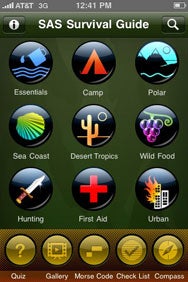 The core of the app is an electronic version of the best-selling SAS Survival Guide Handbook by John "Lofty" Wiseman, a veteran of the British Special Air Services. Wiseman offers advice on how to camp, survive and thrive in polar, desert and other challenging environments.
What makes the guide come alive, though, are the other cool features: Quizzes testing your survival knowledge; photo and video galleries that take you step-by-step through activities like building fires and setting up camps; a compass; and—neatest of all—the ability to type out and convert emergency messages to Morse code, using light flashes to signal other nearby adventurers. (A free lite version of the app offers some basic survival information along with photo galleries, a survival checklist, and one of the 16 videos you'll find on the $7 version. Needless to say, the paid offering provides much deeper content.)
Despite all the nifty features, though, the SAS Survival Guide might be more for Jack London wannabes than for actual adventurers. Why? Because there's one disaster it doesn't prepare you for—getting lost in the wilderness without any way to recharge your iPhone battery.
[Joel Mathis is a freelance journalist and political columnist for Scripps Howard News Service. He lives in Philadelphia.]