At a Glance
Expert's Rating
Our Verdict
Back in 2004, I covered AFS Monitor, a program that helped you keep track of who's connected to your Mac via File Sharing. It was a useful utility, especially since, unlike Mac OS 9, OS X doesn't provide a convenient way to monitor File Sharing connections. Unfortunately, AFP Monitor hasn't been updated updated in years, and I haven't been able to get it to work 100-percent reliably under Snow Leopard (OS X 10.6). In addition, I always wished it offered a menu-bar item to make it easier to keep an eye on connections.
A nice, Snow Leopard-compatible alternative is Sebastian Sparrer's AFPStatus. This utility resides in your menu bar, displaying an OS 9-like file-sharing face icon that, appropriately enough, smiles when the File Sharing service is active and frowns when it's not. When another user or computer connects to your Mac via File Sharing, AFPStatus sounds an alert, and the menu-bar icon changes to show two faces; the actual menu displays the IP address of the connecting computer.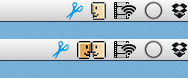 The program can also use Growl for connection and disconnection notifications, and you can also opt for AFPStatus to announce those events using OS X's text-to-speech feature (although, because of the way File Sharing works under recent versions of OS X, you'll hear such spoken alerts incessantly).
While files are being transfered to or from your Mac, AFPStatus' two menu-bar faces "talk" to each other—a cute detail. AFPStatus also provides a useful option that prevents your Mac from sleeping if File Sharing users are connected; its menu provides quick access to the Sharing pane of System Preferences; and it keeps an easy-to-read log of File Sharing events.
Unfortunately, AFPStatus doesn't work with Windows Sharing or other Sharing services, and the program's menu option to enable and disable File Sharing doesn't currently work because of changes Apple made to File Sharing in Leopard and Snow Leopard. Still, if you allow other people in your office or home to connect to your Mac via File Sharing, AFPStatus is a handy way to track those connections.
Want to stay up to date with the latest Gems? Sign up for the Mac Gems newsletter for a weekly e-mail summary of Gems reviews sent directly to your Inbox.