The iPad already enjoys any number of cases, stands, docks, and other accessories. Modulr, however, seems to have the "more than meets the eye" approach down pat, as the company has finally revealed its extensible iPad case system and will begin taking pre-orders later this month.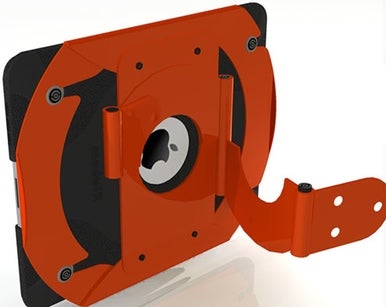 We caught wind of Modulr in our first iPad case roundup, back when the company was just gearing up. The heart of Modulr's system is a full-body case featuring soft-touch material, a detachable cover, and four dual-purpose "nodes" on the back. At first brush, these nodes act as feet to let the iPad rest on a flat surface and stand firm for touch input.
The Modulr case gets much more interesting when you look at all the node-friendly accessories that you can use to hook, hang, stand, and otherwise fit your iPad into various situations. Instead of constantly shoehorning your iPad in and out of various cases and stands, you can use Modulr's core case and suite of accessories and mounts designed just for said case. The Slim Mount, for example, can turn your iPad into a wall-mounted TV, while the Car Mount can help educate or entertain the kids on a car trip. The Quick Stand is good for typing or doing the living-room-photo-frame thing, the Swing Mount puts the iPad on a wall-mounted, movable arm, and the Shoulder Strap lets you grab-and-go without the need for a separate bag.
Modulr's, er, modular iPad system looks pretty interesting, and the company told Macworld in an e-mail that this is only its initial lineup of accessories. The core case and a couple of its accessories go on pre-sale later this month. The case will cost $59, the Slim Mount will be $29, and the Quick Stand will be $19. Prices for the other accessories will be announced at a later time. If you want to jump on the Modulr system for iPad as soon as possible, head over to the company's site and click any of the Notify Me links and enter your e-mail address.