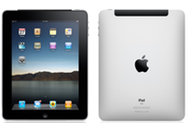 If you were one of those rushing out to buy an iPad 3G + Wi-Fi based on its unlimited data plan, good news: AT&T confirmed on Friday that customers who bought an iPad before June 7 would be able to take advantage of the unlimited plan.
According to posts on AT&T's Facebook page and apparently confirmed by The New York Times, AT&T will allow any customer who purchased the iPad 3G before June 7 to sign up for the unlimited plan, including, it would seem, those who had merely ordered but not received the device. It's a welcome development, especially since the 3G-enabled iPad has reputedly been in short supply in many places throughout the country.
AT&T announced earlier this week that it would be scrapping its current data plans for smartphones and other devices, such as the iPad, in favor of two options: a $15 per month 200MB plan and a $25 per month 2GB plan. That move irked some customers who described the change as being tantamout to a bait-and-switch.
The announcement that AT&T will grandfather in existing customers is a welcome development, though some lingering concerns remain. For example, it appears that users who cancel the unlimited plan after June 7 will not be able to re-activate it, instead having to choose from one of the new plans.
In addition, the nature of the switch has prompted a lot of speculation about why AT&T's plan changes are timed to coincide so neatly with Apple's WWDC keynote. At this point, the best option may be to hold tight and see what Apple announces next week.