If you're the kind of person who likes to waste their iPhone battery by mindlessly tapping the screen over…and over…and over again, then I cannot think of a better way for you to do that but with StuckPixel's The Button— A Social Experiment. It's everything you'd want in a game—social features, leaderboards, etc.— except without any of that annoying "gameplay" stuff.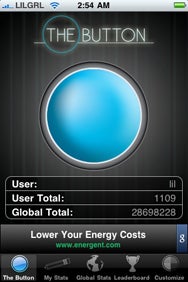 The Button is…well, a button. A big, blue button, to be exact, that just sits there, waiting for you to push it. As you push the button, it keeps track of your stats—how many times you've pushed it, how many times you've pushed it in the past week/month/year, your "push rate per second," the total amount of time you've spent pushing the button, and your "average button push time." Exciting, right?
Well, it also keeps track of the global stats and has a global leaderboard. On the Global Stats screen, you can see how many times the button has been pushed in total, as well as your push contribution (as well as the global stats that correspond to your personal stats). The Global Leaderboard shows who has pushed the button the most times (a neat feature—there's also a friend leaderboard, so you can connect with your friends to see who has the most free time—er, who has pushed the button the most, among you).
As if detailed statistics and a global leaderboard weren't enough to entice you to push this button, you also unlock "achievements." This, I like—the "achievements" are cleverly placed and named: you get a "Getting Higher" badge for reaching 420 pushes, and a "Devil's Advocate" badge for reaching 666.
There's also a settings screen, where you can choose what your badge will look like (in case you ever do make it to that Global Leaderboard), and you can turn off the alerts that tell you what "achievements" you've achieved (the alerts do get in the way of seamless button pushing).
All right, so it's not terribly complex, but what do you expect for a game whose premise is to push a button…as many times as you can? Considering what it is, this is actually a very well made game—the button pushing is seamless (it recorded every tap I made, even if the button graphic didn't depress each time), it never crashed, and it's pretty and blue. If you're going to get a game where all you do is press a button, this is the one to get. As for it being a "social experiment," I suppose it is an effective social experiment…a social experiment where we see how many people have no social lives.
[Sarah Jacobsson can't believe that this was the game she was assigned to review this week.]