When the new iPhone 4 arrives June 24, an updated operating system will be waiting to greet it. Apple plans to roll out the next major version of its mobile OS in two weeks, the company confirmed on Monday.
Apple showcased its planned iPhone OS update during Monday's Worldwide Developers Conference keynote. And while the presentation largely covered the same ground Apple went over when it first unveiled the update's major features in April, CEO Steve Jobs offered a few new tidbits—a new name for the OS as well as support for video calling features with the latest iPhone.
The OS, which runs on the iPhone, iPod touch, and iPad, has been renamed iOS 4.0—a smart move given the number of mobile devices Apple now offers. Later this month, Jobs says, Apple will sell its 100 millionth device that runs its mobile OS. With more than 2 million iPads sold in the last two months and iPod touch sales going strong, it's clear that Apple's mobile OS powers more than just a smartphone.
iOS 4 offers more than 1500 APIs for developers as well as 100 new features aimed at end users. Jobs demonstrated a few on Monday, though what he showed off wouldn't come as a surprise to anyone familiar with what was previewed in April. As with that event, the OS's new multitasking features were put on display—Jobs played a song using the Pandora music-streaming app while he also switched back and forth between the Mail and Safari apps. iOS's take on multitasking involves a combination of app-switching features and background processes managed by the operating system itself. Apple contends that this is a much more battery-friendly way to run multiple apps—a point Jobs emphasized Monday when he cited a quote from Google's Larry Page about how software running in the background can exhaust battery life.
"Yes, it does," Jobs told WWDC attendees. "Unless you do it right."
Other iOS features Jobs revisited on Monday included folders for organizing applications, a unified Mail inbox, and a new Game Center social network platform. The OS update will also include enhanced camera features—namely 5x digital zoom and a tap-to-focus feature for shooting video—as well as Faces and Places support in the Photos app. Other features include the ability to change the background wallpaper on your iPhone's home screen; a built-in spell-checker for Mail, Notes, and other apps; custom playlist creation on your iPhone; and wireless keyboard support. iBooks, the e-reader application for the iPad, will also be available for the iPhone, as part of a forthcoming update announced Monday in conjunction with iOS 4's release.
For enterprise users, Jobs announced that iOS 4.0 would offer better data protection, mobile device management, wireless app distribution, multiple Exchange accounts, Exchange Server 2010, SSL VPN support.
Jobs also took time during his presentation to developers to reveal more details about iAd, the new iOS 4 SDK feature that allows developers to embed advertising in iPhone apps. The ads run inside the app, so users don't leave the app if they tap on the ad. Users can also use in-ad purchasing to buy content from iTunes immediately. According to Jobs, companies that have already signed on to Apple's new ad network include Best Buy, DirecTV, JCPenney, and Target.
Monday's iOS 4 preview did include talk of some new features, one of which was tied in with the iPhone 4 announcement. iOS 4 supports FaceTime, the video-chatting feature that will debut with the new iPhone.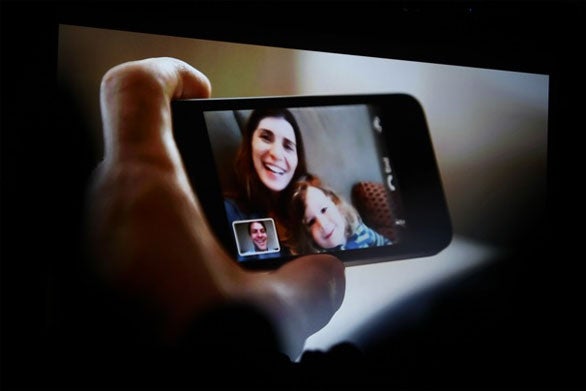 A FaceTime button in a phone call allows iPhone 4 users to enable face-to-face video conversation, something Jobs said he grew up "just dreaming about." FaceTime works between two callers using the new iPhones (though Apple intends to open-source the standard so any phone can use it). You can switch between front and rear-facing cameras in the middle of the call. While iPhone calls are placed over a cellular network, FaceTime will only work if Wi-Fi is present as well to exchange the actual video portion.
"This is one of those moments that reminds us why we do what we do," Jobs said.
Confirming many rumors from the past few months, Apple has also added Bing as a Safari search option alongside Yahoo. "Microsoft's done a really nice job on this," Jobs told keynote attendees. Google remains the default, however, but users can easily change this settings in the Settings app.
Jobs wrapped his iOS 4.0 presentation by announcing that developers can download the Gold Master Candidate build Monday.
iOS 4.0 will be available June 21 as a free update for the iPhone 3G and 3GS, as well as to the second- and third-generation iPod touch; note that the 3G and second-generation touch don't support the multitasking feature. The update will be available for the iPad later this fall.
Updated at 5:54 p.m. PT with more details about Monday's iOS 4 demo. Updated at 9:18 p.m. PT with information on iAd.
Macworld intern Blair Hanley Frank contributed to this report.