Apple announced a planned update to its iBooks e-book marketplace and reader for the iPad on Monday. But the real story came when Apple CEO Steve Jobs offered some impressive numbers during his Worldwide Developers Conference keynote on how the app has performed since its April launch.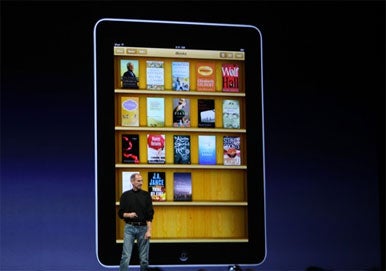 According to Jobs, users have downloaded more than 5 million books—approximately 2.5 for each device sold—in the first 65 days of iBooks' availability. In addition, five of the six largest publishers have reported the app's share of their electronic sale to be about 22 percent, which is rather impressive for an e-book reader that has been on the market for just over two months.
Jobs also outlined new features in iBooks, including the ability to highlight text, add bookmarks and create notes. The table of contents of each book has also been tweaked to list all the bookmarks and notes created by the user.
Perhaps more interestingly, the updated iBooks will support documents in PDF format. This should extend the app's ability to display books to a large number of new titles, in addition to all sorts of documents saved in Adobe's portable document format. PDFs can be accessed through a separate "bookshelf" in the app's main screen. Jobs didn't mention whether PDF support extends to Adobe's proprietary DRM technology, which would make it possible to import and use books purchased through other bookstores that support the format.
iBooks is available for free from the App Store; it requires an iPad running iPhone OS 3.2 or higher. The update containing the features outlined by Jobs on Monday should be available later this month.
Jobs also revealed Monday that iBooks will come to the iPhone with the release of the next major iPhone operating system, which Apple has renamed iOS 4. The iPhone version of the app will feature the same controls, highlighting, bookmarking, and notes features as the iPad release. It will also include PDF support, allowing users to save PDFs from Mail onto their iBooks shelf.
iPhone users will also have access to the iBookstore to buy e-books for the app. Jobs said that users will be able to download the same book to their different Apple mobile devices at no extra charge.
Updated at 11:26 a.m. PT to include information on the iPhone version of iBooks.