Editor's Note: The following article is reprinted from Macworld UK. Visit Macworld UK's blog page for the latest Mac news from across the Atlantic.
A comic book adaptation of James Joyce's notoriously challenging epic Ulysses is now available on the App Store, but only after Apple demanded cuts.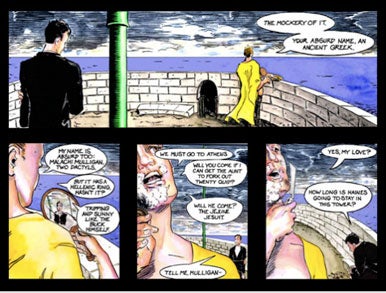 Rob Berry and Josh Levitas launched the ambitious webcomic version of the classic novel, one of the most important works of Modernist literature, earlier this year under the title Ulysses Seen. The comic includes only cartoon nudity, which the pair had to remove before Apple would approve the app.
"Apple has strict guidelines and a rating system to prevent 'adult content.' Their highest mature content rating is 17+, which doesn't seem to be a problem since no one reads Ulysses at sixteen anyway. But their guidelines also mean no nudity whatsoever. Which is something we never planned for," Berry told Robot 6.
"Joyce's novel is pretty explicit in its language and themes, so much so that in 1932 it won one of the most important court decisions about censorship in American history," Berry continued. In 1920 after the magazine The Little Review serialized a passage from Ulysses dealing with the main character masturbating, the New York Society for the Suppression of Vice helped get the book banned in the U.S. for more than 10 years. Eventually, following United States v. One Book Called Ulysses, U.S. District Judge John M. Woolsey ruled in 1933 that the book was not pornographic and therefore could not be obscene, with the Second Circuit Court of Appeals affirming the ruling in 1934.
"While the first chapter of the book, the one now at iTunes, doesn't contain 'offensive language,' our comic does have frank nudity. Something we figured we might have to pixelate or cover with 'fig leaves,'" Berry notes. "But Apple's policy prohibits even that. So we were forced to either scrap the idea of moving to the tablet with Apple or re-design our pages."
Berry and Levitas cropped the images to remove any offending genitalia, although the full images can still be seen online. "Fortunately, the design of our application presents one version of the comic downloaded to your iPad and the ability to go to the Website for discussion. This means that readers can still see the pages in their original form. So two versions of the comic exist for now; one on the device and one on the website. readers can decide which works better."
Despite the compromise, both Berry and Levitas believe the iPad is a great platform for displaying Ulysses Seen. "Actually, we've always seen this as an iPad app from our initial plans three years ago. We were just waiting for Apple to catch up! With Ulysses Seen on the iPad, I think we've put together a completely unique notion of what a 'tablet book' can be, not just a graphic novel or discussion forum, but a different kind of reading experience that people can carry along with them."
Rated 17+ by Apple, Ulysses Seen is currently only available on the U.S. iTunes Store.
[Via Robot 6]
Note: When you purchase something after clicking links in our articles, we may earn a small commission. Read our affiliate link policy for more details.