With a new iPhone on the way capable of recording HD 720p video, Apple is getting a mobile version of iMovie ready for action. CEO Steve Jobs announced plans to release the video-editing app during Monday's Worldwide Developers Conference keynote.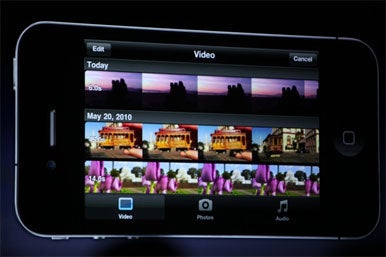 The app will cost $5 and should arrive in the App Store soon. "If we approve it," said Jobs, in a joking reference to his company's often murky app approval process.
If Monday's preview of the app is anything to go by, though, expect iMovie for the iPhone to get the green light. Demoed by Apple chief architect for video Randy Ubillos, who was also responsible for the redesign of iMovie back in 2008, iMovie for the iPhone takes users beyond simple cuts in the Camera Roll and allows them to put together fully formed films without ever touching a computer.
"iMovie [for the iPhone] is one of the most exciting things I've ever worked on," Ubillos told WWDC keynote attendees.
The mobile app borrows heavily from its computer cousin, allowing users to create full-featured projects from the comfort of their phones.
Users can build and edit multiple projects using previously filmed clips, photographs, or video recorded directly into the timeline. From there, transitions, titles, and music can be added with the tap of a finger. Photographs automatically display using the Ken Burns Effect—this is iMovie, after all.
For even easier presentation, Apple offers five different pre-made themes to package your clips in. Themes range from Modern and Bright, which offer a clean, simple look for your transitions and text, to Travel, Playful, and News, which spice up your selections with colorful graphics and fonts. Apple also has various custom-scored music loops available, if that Grateful Dead song in your iTunes library isn't quite what you want for that video of your daughter's fourth birthday party.
The editing process is quick and simple: individual clips can be added to the timeline from the clippings bin, then trimmed by tapping and dragging input points left or right. The entire timeline can be scrubbed through with a swipe, or resized via pinch-to-zoom. Editing can be done in either portrait or landscape mode, depending on user preference.
You can preview your iMovie masterpiece by tapping on the play button at any time, and once it's done, you can share it with the world in three sizes—Medium (640×360), Large (960×540), or HD (1280×720)—using e-mail, MMS, YouTube, or MobileMe. You can also export your movie to your iPhone, where it will rest until the next time it meets your computer for a well-deserved sync.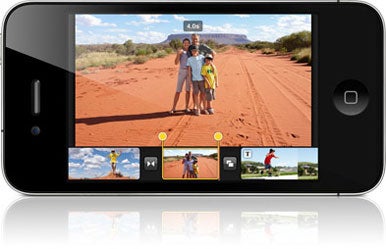 It's unclear at this point whether you'll be able to movie iMovie projects back and forth between the iPhone version of the app and iMovie for your desktop. Apple also has yet to clarify whether the mobile app will work only with iPhones with built-in video cameras—that'd be the iPhone 4 and iPhone 3GS—or all iPhones, as third-party apps have added video-capture functionality to many older phones. Apple hasn't yet responded to our request for more information on either issue, though its Website seems to indicate iMovie for iPhone is designed with the iPhone 4 in mind.
If you want more information, check out Apple's Website, which also has a few nice promotional shots of the app in action. The app is listed as "coming soon," and should retail for $5 on the App Store.
Updated at 2:25 p.m with more information throughout the story.