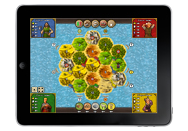 The popular board game The Settlers of Catan is making its way to the iPad and is now in its final stage of development. Its developer, Exozet Games, is looking for beta testers to play through the game and provide feedback, and they're nice enough to let anybody with an iPad sign up for a piece of the action.
The board game The Settlers of Catan was first released in 1995 in Germany, and has since sold over 15 million copies, winning numerous awards for its simple yet deep gameplay. Catan has already been ported to the iPhone, for which it has received mostly positive reviews. The iPad version, like the iPhone version, is an exact replica of the Catan board game. But unlike the board game, the iPhone and iPad versions let you play against AI opponents as well as human ones.
If you're a fan of the game, and eager to try it out on the iPad, visit the Catan beta page and sign up.