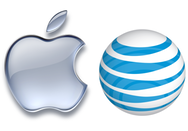 Amid the excitement of Apple Worldwide Developers Conference keynote and rumors regarding AT&T's status as the iPhone's sole U.S. carrier, the wireless company gave some current iPhone customers even more good news: earlier-than-expected upgrade pricing.
Steve Jobs announced AT&T's "incredibly generous upgrade offer" during his keynote. In plain English, current AT&T customers eligible for an upgrade sometime in 2010 can buy the iPhone 4 on its June 24 launch day for $199 (16GB) or $299 (32GB)—if they agree to sign another two year contract.
This includes customers nearing the end of their contracts (which AT&T labels "Upgrade Eligible") in addition to customers who have at this point only completed a year and a half of their contracts (labelled eligible for an "Early Upgrade"—this also includes most early-adopter 3GS owners). This allows most of us who picked up a 3GS in its first few months to buy the iPhone 4 on launch day at its advertised price.
While it may seem like the move is a last-ditch effort to keep customers locked in for another two years in the face of possible iPhone carrier competition, AT&T CEO Ralph de la Vega says all about pleasing customers.
"We know that people are eager to get iPhone 4, which is why we moved up the upgrade eligibility date for current iPhone customers by up to six months," the AT&T CEO said in a press release posted shortly after the keynote.
The press release goes on to detail AT&T's availability and pricing structure for the 3GS and the newly announced iPhone 4. Customers can pre-order Apple's newest phone from their local AT&T stores or online starting June 15, with it available in-stores June 24. Customers who order from AT&T in advance have the option of shipping their pre-orders directly to their doors (a welcome change from the 3GS's long in-store wait times).
Apple also introduced an 8GB iPhone 3GS model on Monday, which will be sold for $99. AT&T's remaining 16GB and 32GB 3GS models will cost $149 and $199 (with a two year contract), respectively, while supplies last.
Combined voice and data plans will now start at just $55 (AT&T's $40 Nation 400 voice plan plus $15 DataPlus) for all new iPhone 4 and 3GS customers. Current iPhone customers, as we know, can keep their $30 unlimited data plans when buying new hardware (although they will have to sign up for new two-year contracts). In either case, it looks like the days of an iPhone-specific plan are officially over—at least with AT&T.
Additional information, including details on AT&T's plans for Small Businesses, can be found in AT&T's press release.
32GB iPhone 4 (GSM, AT&T)
Price When Reviewed:
$599
16GB iPhone 4 (GSM, AT&T)
Price When Reviewed:
$485