At a Glance
Expert's Rating
Pros
Adds powerful features to your iWeb site without HTML.
Cons
Doesn't let you directly edit new features in iWeb.
Prevents some iWeb-specific features from being applied to Web sites.
Our Verdict
iWeb '09 is a great way to create attractive Web pages quickly, but its drag-and-drop simplicity isn't for everyone. Some users long for the flexibility that only access to HTML code can bring. Others may like iWeb's page-layout-style of Web design, but would be happy to see a few more options in its toolbox.
iWeb Valet 2.3.9 by ZiggySoft aims to satisfy both camps by letting users customize their sites with features unavailable in iWeb ( ) without needing to edit a single line of HTML. But while it offers a few handy new tools for your iWeb pages, iWeb Valet is held back by a cumbersome workflow.
You don't directly edit your iWeb domain file with iWeb Valet. Instead, you must export your site to a folder from iWeb, and then open that folder in iWeb Valet to apply its features. Some of these are strictly practical, like the ability to mask e-mail addresses from spammers, globally fine-tune image size and compression settings, and add meta tags (keywords that describe your site to search engines) to some or all of your pages. These and other customizations, such as favicons, can be applied to your exported site with a click and saved as presets for later use. While edited sites can't be saved back to iWeb, they can be uploaded from iWeb Valet to the server via FTP or MobileMe ( ).
Unfortunately, this costs you some iWeb-specific upload features, such as automatic Facebook updates and the option to password-protect sites hosted on MobileMe's iDisk. These options are unavailable in iWeb if you publish to a folder, and iWeb Valet offers no substitute functionality. And because iWeb Valet doesn't provide a link to your site after upload, you'll need to have it bookmarked in advance for easy viewing. The ability to speed uploads by transferring only changed files, and a limited backup feature that copies and restores your iWeb domain file, round out iWeb Valet's basic features.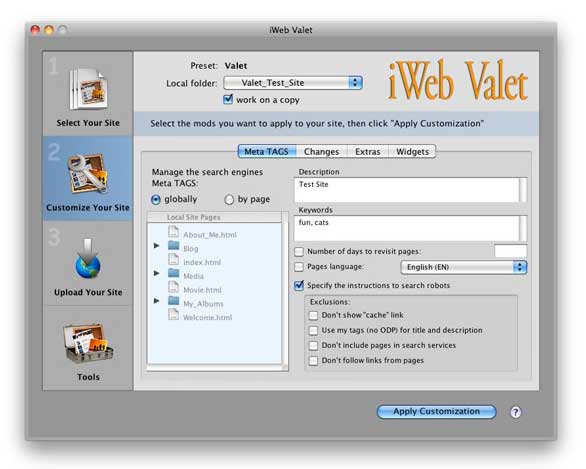 iWeb Valet also offers a collection of 14 Javascript widgets, some of which go far beyond what's possible with iWeb's built-in widgets. One adds a drop-down site menu to your pages, another prevents visitors from downloading images from the page to which it's applied, another even adds a Google Custom Search engine to your site. The rest––a calendar, countdown timer, and others––are more decorative in nature. However, while the widgets' colors and type styles can be customized, their plain, text-only designs lack the polish of Apple's offerings.
Worse, iWeb Valet's workflow makes it difficult to precisely edit the position of graphical widgets on your pages. Widgets are customized in iWeb Valet, then exported as placeholders to be pasted back into iWeb. The process can get complicated because, unlike iWeb's HTML Snippet feature, iWeb Valet placeholders often don't represent the exact size and appearance of their widgets. This forces you to guess how widgets will appear relative to other objects on the page until you export to iWeb Valet, where you can preview fully visible widgets on your site. But changing their positions requires you return to iWeb to make changes and re-export your site, repeating as necessary until a page looks the way you like.
Macworld's buying advice
iWeb Valet 2.3.9 lets you customize your exported iWeb site with some powerful new tools, but the application's workflow will prove too inflexible if you like to regularly change your site's design. However, if one of iWeb Valet's features is a must-have addition to your site, this HTML-free program may be worth a look.
[Adam Berenstain is a freelance writer in upstate New York.]