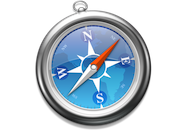 Update: Apple has now updated the Safari 5 page on its Website.
Steve Jobs's Worldwide Developers Conference keynote was not without its share of glitches, and bad luck continued to plague Apple on Monday as what appeared to be a prematurely released press release dished the features on the latest update to the company's Web browser. According to the release, which has since been pulled, Safari 5 adds a new Safari Reader feature that presents Web pages in a streamlined interface, support for developer-created extensions, new HTML5 capabilities, and performance increases.
The new Safari Reader feature seems akin to Web-based services like Readability, giving you the option of viewing a Web page in a slimmed-down, scrollable view that eliminates many of the distracting elements. Safari 5 can detect both single and multipage articles and allows you to toggle the Reader mode to display the article, print it, or share it via e-mail.
Apple also added a few other user-facing features, such as the ability to open links in a new tab instead of a new window, a smarter address field that can remember the content of the page as well as the URL, and the option of using Microsoft's Bing in the search field.
From a developer perspective, Apple has at long last opened up Safari to extensions, a feature that had long been the domain of rival browsers like Chrome and Firefox. The introduction of the free Safari Developer Program lets programmers create extensions based on HTML5, CSS3, and JavaScript. Apple's even added an Extension Builder to Safari to help develop, package, and install extensions. To ensure security, extensions run in a sandboxed mode solely in Safari and require a digital certificate signed by Apple. There's also an improved Web Inspector that brings a new Timeline mode to help developers figure out how Safari interacts with their Websites.
Safari 5 also features a number of performance enhancements, including the new Nitro JavaScript engine, which Apple claims improves JavaScript performance by 30 percent over Safari 4 and 3 percent over Google Chrome, as well as making it twice as fast as Firefox 3.6. They've also built in additional speed features such as DNS prefetching and improved caching of previously viewed pages. In addition, the Windows version of Safari can now take advantage of hardware acceleration for graphics and interactive features.
Apple's spent a lot of time talking about HTML5 recently, and Safari appears to put the company's money where its mouth is. Included in the update are a handful of new HTML5-related features, like the addition of full screen video playback and closed captions, as well as HTML5 Geolocation and several other capabilities that should allow Web developers to take even more advantage of the features that HTML5 can offer.
Safari 5 will be a free download for Mac and Windows; the requirements call for Mac OS X Leopard 10.5.8 or later, Mac OS X Snow Leopard 10.6.2 or later, Windows XP SP2, Windows Vista, or Windows 7. As of this writing, Safari 5 was not available via Apple's Software Update or on the company's Website.
Updated 4:52 PT with more details on the release.
[Lex Friedman contributed to this report.]