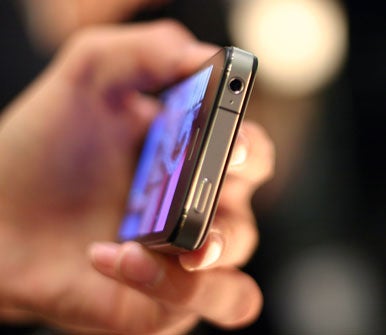 As Steve Jobs would have it, the iPhone 4 unveiled Monday represents the biggest revision for the iPhone since the device's original 2007 release. Looking back now, it's tempting to lump the iPhone 3G and the 3GS into a single category. It's not hard to see the latter as an incremental improvement on the former—the two had more in common than not, and the devices were almost exactly the same.
From that perspective, then, the iPhone 4 is certainly a radical departure. With its flat, glass back and stainless steel edges, it might remind you more of a Braun appliance than a cell phone. The iPhone 4 is a brand new device from the inside out, and when you get your hands on one, you'll be able to tell in an instant that this is a different beast from its predecessor.
We had the chance to spend a half an hour with the iPhone 4 in its natural habitat: an Apple-designed demonstration center in the Moscone West convention center, right after Steve Jobs's 2010 Worldwide Developers Conference keynote. So we tried as many of its new features as we could, and got a feel for Apple's most significant iPhone upgrade yet.
The look and feel
Despite the new phone's outwardly different appearance, some things haven't changed. When you first heft the iPhone 4, you still get the sense that it is an extremely solid, well-put-together device. According to Apple's specs, the iPhone 4 is a tenth of an ounce heavier than its predecessor, the 3GS, though as it measures in at a narrower 2.31 inches (to the 3GS's 2.4 inches) and a thinner .37 inches (compared to the 3GS's .48 inches), you get the impression of an incredibly dense device. And somehow, as with every subsequent iteration of an Apple product, the company has managed to make its earlier designs look almost clunky by comparison—using the device gives you the impression that this is the handset that Apple has been waiting to make for the last three years.
Both the back and front of the phone are now made of glass, coated with the same oleophobic layer used on the 3GS. The display units we used had a slightly tacky feeling to them; it's hard to tell whether or not they'll be prone to sliding off of inclined surfaces. Apple claims the glass is 30 times stronger than plastic and rivals sapphire crystals for strength. While we hesitated to throw the new iPhone to the floor and jump up and down on it (though we're sure our colleagues at PCWorld will jump at the chance when they buy their own iPhone 4 on June 24), the 3GS's screen has proved to be extremely durable and, in many cases, more resistant to scratching than its plastic back; we expect the iPhone 4 to boast similar resiliency.
One side effect of making both the face and the back of the phone glass is that, at last, the differences between the white and black iPhone models now really mean something. In the iPhone 3G and 3GS, white and black models looked pretty much the same when viewed from the front. That's not true anymore: if you're using a white iPhone, you'll know it—it's white front and back. With the product's straight edges, stainless steel sides, and round, dimpled home button, the white model especially hearkens back to the original iPod.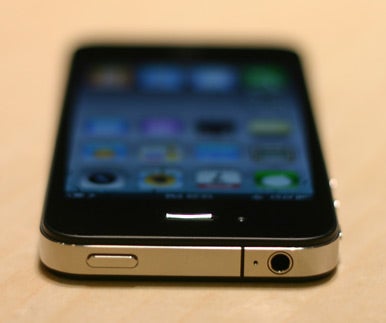 The left side of the phone now features a pair of round, metal volume buttons rather than the rocker switch of earlier models. The buttons are nice, in that they require firm pressure to activate and they give a pleasant response under your fingers; it feels less likely that you'll hit one by accident or that the volume will get changed when you slide your phone in a bag. They also have subtle + and – symbols engraved in them, letting you identify them by feel. The mute switch has also been changed; no longer the angled switch of previous iPhones, it just slides up or down; when it's on mute, there's a thin orange line to let you know that it's on silent mode. Like the volume buttons, the new switch seems less likely to get triggered by accident, a problem we've even had when just slipping a iPhone 3GS into a pocket.
Apple has also moved the SIM card to the right side of the phone, and changed it from the full-size card found in previous models to the micro-SIM used in the iPad. According to Jobs, this was done largely out of space concerns.
Besides the usual Sleep/Wake button and headphone jack on the top of the phone, Apple's also added a second microphone for noise canceling. Unfortunately, we didn't have an opportunity to try out the calling features on the iPhone 4, so an assessment of whether or not that noise-cancellation lives up to its name will have to wait until we get a chance to put the device through its paces later this month.
The display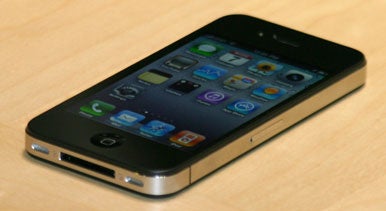 Apple calls the display on the iPhone 4 a "Retina display," a slightly creepy name for an astounding piece of engineering. At 960 by 640 pixels, the iPhone 4 display is double the screen resolution of its predecessors. At 326 pixels per inch, the iPhone 4's display offers a level of legibility that you've come to expect from the printed page, not a computer. The original iPhone's high-resolution screen (163 pixels per inch) was already a huge step up from what we'd expected from a computer display, but the iPhone 4's screen is in a completely different category.
We placed an iPhone 3GS and an iPhone 4 side by side. The results were readily apparent. Text on the iPhone 3GS, while quite readable, showed noticeable pixelation. We couldn't pick out any pixels on the iPhone 4's text; as Apple claims, this screen really makes text look like something you'd find in a book or a magazine, with none of the artifacts that we've come to expect from a LCD display.
The screen uses the same in-plane switching (IPS) techniques used on the displays in all the iMacs and in the iPad. As a result, the display is bright and colorful, with a massive viewing angle that really does look great, no matter which way you hold it.
Photos and videos are absolutely spectacular on the iPhone 4. It really is like looking at a self-illuminated photographic print, not a computer image. High-resolution videos play smoothly and look immaculate.
Cameras, photo, videos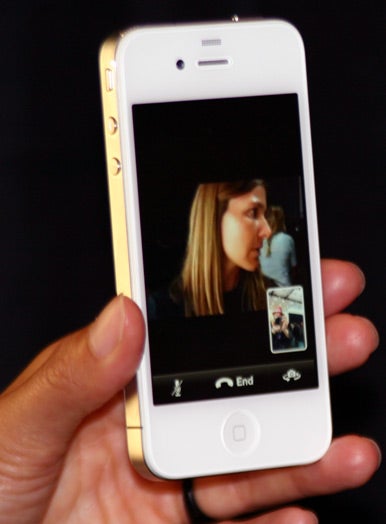 We got to spend some time playing with the iPhone 4's two cameras. The rear camera is a 5-megapixel model, up from 3 megapixels on the iPhone 3GS. But megapixels aren't everything—in fact, the iPhone 3GS camera creates better output than many smartphone cameras with more megapixels. This new camera appears to follow in its predecessor's footsteps, though we were only able to shoot in a controlled environment in Apple's demo area. The photos we took looked great in preview mode on the phone; we look forward to doing a more thorough analysis when we get our own iPhone 4 and use it to shoot in more varied environments.
Also new to the rear-facing camera is an LED flash. When you turn the flash on and press the shutter button, the LED flashes once to allow the camera to meter the brightness, and then a second time to take the picture. The results seemed decent, though we've learned from other smartphones that an LED flash isn't always the best choice if there's enough light to shoot without. Still, for most people the LED flash means that you'll always be able to take a picture, even if it's getting pretty dark. (You can set the flash to never fire, always fire, or fire automatically when the camera senses that you need it.)
The iPhone 4's front-facing camera isn't a 5-megapixel wonder; it's a 640-by-480-pixel camera (three-tenths of a megapixel, if you're curious) designed to be used primarily with the new FaceTime video-chat system, though it will also work well as a way to take self-portraits. You can flip between the front and rear camera from within the Camera app, as well as when you're using FaceTime.
FaceTime itself worked great in the demos we saw carried out by Apple's employees. Video quality in the FaceTime chats seemed somewhat variable; it's definitely not a high-def video experience, but it doesn't really need to be. (But as we learned from iChat AV, the real test with video chatting is when you try to start a chat from various and obscure network conditions.) Starting a chat couldn't be easier, however. You dial a friend with an iPhone 4, and then tap the FaceTime icon in the Phone app to initiate a video call. There's no app to launch and no buddy list to configure. It's a very cool idea, though it does make us wonder what will happen when other devices—those without phone numbers, for example—join the FaceTime party.
Once you're in a FaceTime conversation, you can readily switch between landscape and portrait orientations, or jump back and forth between the iPhone 4's front- and rear-facing cameras—in case you want to show your conversation partner what you're looking at. As in iChat on the Mac, there's a small window that shows what your camera is seeing, and you can drag that pane into any of the screen's corners.
The Software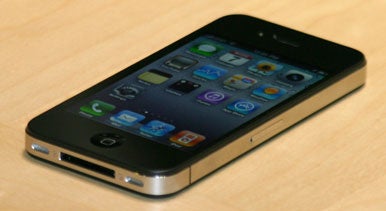 We got to spend a few minutes using two new iPhone apps, iMovie and iBooks. Given just how much processing power is required to edit video, iMovie's performance was impressive. It felt very smooth. And the iMovie interface seems, if anything, more suited for the iPhone's touch interface than for the Mac interface. Trimming a clip is a simple as tapping on it and dragging a pin right or left. Now you can shoot your kid's dance recital, edit it together, and ship it out to friends and relatives before the dance teacher has finished her thank-yous at the end of the night.
iBooks on the iPhone 4 takes great advantage of the new phone's high-resolution screen. Text is amazingly crisp. When we tried to flip over into PDF view, we did notice that there were some pauses when zooming in to a large PDF document. But once the zoomed-in portions of the PDF appeared, they were immaculately rendered.
Coming soon
Now the wait begins. But at least it's not a long one: Apple will be taking pre-orders for the iPhone 4 in seven days, and shipping it in 16. By the time July rolls around, you won't need to rely on us to answer your questions about this new direction for Apple's iPhone line—you'll be able to find out yourself. In the meantime, though, we'd be happy to answer anything we can on the topic.
[Dan Moren is a Macworld Senior Associate Editor and previously reviewed iPhone OS 2.0 and 3.0. Jason Snell is Macworld's Editorial Director and has reviewed all previous iPhone models.]
16GB iPhone 4 (GSM, AT&T)
Price When Reviewed:
$485
32GB iPhone 4 (GSM, AT&T)
Price When Reviewed:
$599