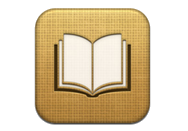 Along with the big iPhone 4 hardware news, Monday's WWDC keynote also provided some additional details about improvements to iOS 4 (formerly iPhone OS 4) and several of Apple's own iPhone apps. First among those is an upcoming update to the iBooks e-reader app that make it clear Apple is trying to blunt many of the advantages of Amazon's Kindle platform.
The most welcome announcement for iPhone and iPod touch owners is that, like Amazon's Kindle app, the next version of iBooks, available later this month, will run on those two devices. As with the Kindle app and Amazon's Kindle hardware, once you've purchased a book from the iBookstore, you'll be able to download that purchase to all your devices.
But along with this capability, Apple is adding another flagship Kindle feature to iBooks: position syncing. Stop reading a book on one device, and the next time you launch iBooks on any of your devices, you'll pick up right where you left off.
Apple has also responded to requests for Kindle-like reading tools. The new version of iBooks will let you take notes as you read. Each note appears, like a tiny Post-It, at the side of the respective page. And while you can currently "bookmark" text—which really means "highlight sections of text on a page"—the new iBooks will allow you to bookmark pages themselves. Each book's table of contents will show all your bookmarks and notes—which are also synced between devices—letting you quickly jump to any of them.
These features bring iBooks considerably closer in functionality to Amazon's Kindle app, but Apple has also added to iBooks what the company says is its most requested feature: the capability to view and read PDFs. By using the file-syncing feature of iTunes, or emailing PDFs to yourself, you can add PDFs to your iBooks bookshelf, which now offers two views: Books and PDFs. And if you're using an iPhone 4, the new version of iBooks is optimized for the device's high-res Retina display for better text display and readability.
These features, together with iBooks' ePub compatibility, font choices, and built-in options for searching the dictionary, Wikipedia, or the Web, give iBooks some compelling advantages over the Kindle app.
On the other hand, the Kindle app continues to offer more reading modes (black-on-white, white-on-black, and sepia), a Mac version, and the benefits of the more robust Kindle ecosystem: better prices, a larger (for now) pool of readers and reviews, and the option to use a Kindle hardware device. And, of course, the iBookstore still can't match Amazon in terms of the number of available books: Amazon offers 540,000 titles for the Kindle, while Apple offers only " tens of thousands." For many people, that just may be the deciding factor.
The good news is that both apps remain free, so once you've got an iPad, iPhone, or iPod touch, you can download both Kindle and iBooks and use whichever is the best option for a particular book.