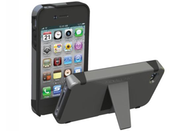 On Monday, Steve Jobs unveiled the iPhone 4 at Apple's Worldwide Developers Conference.
Seconds later, Macworld's email servers were nearly overwhelmed with a deluge of messages from vendors announcing their brand-spankin'-new iPhone 4 cases. So if you're concerned about the fact that the iPhone 4 provides twice as many glass surfaces to cover in fingerprints and scratches, you're probably in the market for one of these.
Scosche is offering a variety of iPhone 4 cases, in metal, rubber, and leather, all costing between $25 and $35. Some of the new Scosche cases even integrate kickstands that you can use to prop the iPhone up.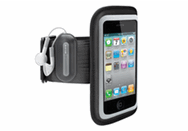 Belkin announced 17 new iPhone 4 cases, across several categories. The company will offer iPhone 4-friendly grip cases (making it easier to hold your new gadget securely), shield cases (which provide better shock absorption if you frequently suffer from the drops), "Verve" cases (which aim to prevent scuffs and scratches), and "Fit Armbands" (wearable cases meant for athletes). All of Belkin's new cases cost between $25 and $30.
Not to be outshone by Belkin's 17 cases, Cygnett introduced more than 30 iPhone 4 cases, including cases made of silicon, leather, and polycarbonate, available in oodles of colors and variations Cygnett's cases aren't yet available for pre-order, and no pricing has been announced yet.
iLuv, like Belkin, is now offering a a large variety of iPhone 4 cases catering to different demographics. The cases, which range in price from $15 to $50, include armband and wallet styles, along with numerous artistic designs. They're available in fabrics, clear plastic, metal, silicon, and even a model with a kickstand. None of the iLuv iPhone 4-specific cases are available for pre-order yet.
For $40, Uncommon will let you sheath your iPhone with a custom image of your own creation, or one of the many images available in its gallery. Uncommon describes its deep-ink case-printing process as not unlike a tattoo, and the galleries seem to confirm that the analogy is apt.
Gumdrop's lineup of iPhone 4 cases is geared towards those who engage in what the company calls "an active youth lifestyle." The cases—shipping now—cost between $30 and $35, and are available in bumpy silicon or smooth polycarbonate varieties.
Most of the companies above also plan to sell various iPhone 4-customized skins and screen protectors, too—if the device's oleophobic coating isn't enough for you.