Penultimate from Cocoa Box Design is a note-taking app created to replace paper-based notebooks. Using this $3 iPad app, you can create, organize, and share your notes all on Apple's tablet. The app is attractive and easy to use, but still, it leaves something to be desired.
When you launch Penultimate, you'll notice you already have a notebook in your collection. This notebook is actually a tutorial on how to use the app. I thought this was a really cool way to get user up to speed, and by the time I was finished, I knew everything there was to know about Penultimate.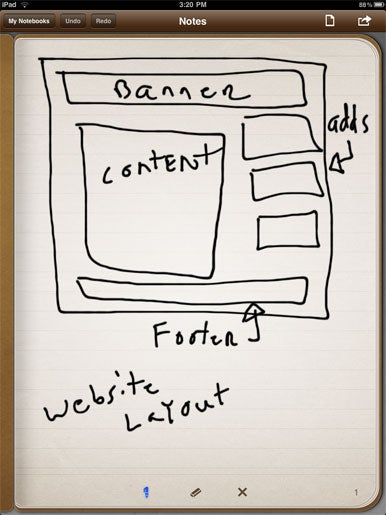 When you're ready to create your own notebook, you just tap the New Notebook button at the top of the screen. You can have as many notebooks as you like. All of your notebooks are displayed on the main screen with their name, the date they were created, and the number of pages they have. You can tap the notebook's name to rename it or tap the book itself to open it for editing.
To jot down your ideas, you just draw or write using your finger. Unfortunately, you can't use the keyboard for entering text—only your finger. This works well for sketching but not so much for taking actual text based notes because the page fills up pretty quickly with large handwritten text.
Writing or drawing felt very smooth with no lag at all. Sadly enough though, you can't choose any color other than black, and there's no way to re-size the pen. You do have an eraser to wipe out mistakes, but its size is a little large. I wound up erasing more than I intended to sometimes. Luckily, there are undo/redo buttons so Penultimate users don't have to worry about really messing anything up.
You navigate through the pages in your notebook by tapping the bottom left or right of a page. Notebooks can have as many pages as you like and you can choose between graph, lined and plain paper. You can e-mail either a single page as a PNG or an entire notebook as a PDF.
Penultimate really isn't what I would consider a great note-taking app, since you can only use your finger to scrawl out text. It's not really a great drawing app either since it lacks resizable brushes, different brushes to choose from, or even different colored brushes. So if you're looking for an excellent note-taking app or a nice sketching app, you should consider other options.
Penultimate is good for quickly sketching out ideas or short notes; its best feature is the fact that you can organize everything in separate notebooks. But as a note-taker, it falls a little bit short.
[Tim Mercer is a technology enthusiast, graphic designer, and blogger, whose blog, digital-artist-toolbox.com, offers free resources to the digital artist and graphic designer.]