Being social these days means feeling obligated to make appearances on Twitter, Facebook, Flickr, and a few other Internet hangouts. Each of these services offers its own Website, and many third-parties developers offer dedicated desktop clients with additional features, integration, or convenience. But if each of these services is like a modern day office water cooler, Realmac Software's Socialite is The One Water Cooler To Rule Them All.
Socialite looks much like an e-mail client, but instead of e-mail, it handles most of today's most popular social networks. After providing your credentials for each of your accounts, those accounts are listed in the left sidebar. You can then view activity for each service separately, or together in a catch-all "Unread" area. You can also add multiple accounts for each service, which is great for managing, say, both your personal Twitter account and your company's Twitter marketing or customer-service channel—you no longer have to constantly log in and out of these accounts in your browser, or risk accidentally posting something to the wrong account.
In addition to Twitter, Facebook, and Flickr, Socialite supports Digg, Google Reader, and good ol' fashioned RSS. It also supports sending links to Instapaper for reading Web articles later on your computer, iPhone, or iPad.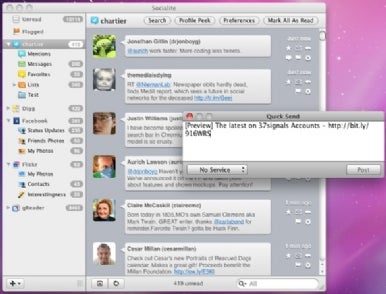 But instead of basic, watered-down "support"—common in do-it-all apps—Socialite supports many service-specific features, such as commenting on your friends's Facebook posts, retweeting messages on Twitter, and marking Flickr photos as favorites. You can share Google Reader items to your friends and your public stream, view photos from your Flickr contacts, browse links your Facebook friends post, and on and on.
Socialite lets you customize both the application and the behavior of individual accounts. Plenty of keyboard shortcuts allow for navigating between items and services and creating new posts of your own, and you can choose how frequently Socialite refreshes each service. You can also display a menubar icon with useful tools, pick your favorite URL shortener and picture uploading service for Twitter, and tweak a number of other behaviors.
Of course, Socialite does have a few of shortcomings. First, the way new items are listed in Twitter and Flickr feels inefficient—there's a little wasted space between these services's items and the controls to the right. If Realmac Software could trim this display down, similar to the way it has for Google Reader items, users could view more items at once.
Another quirk is that Twitter seems to be the primary focus for re-sharing content from other networks within Socialite. For example, the gear menu next to each item in Flickr, Facebook, Digg, and Google Reader lets you tweet that item to one of your Twitter networks, but you cannot, say, share a Google Reader headline to Facebook from this menu, or send an image you found on Twitter to your Flickr account.
My only other notable gripe is occasionally slow performance, particularly if I haven't restarted it or my Mac in over a week, though Realmac Software has told me that I'm one of the program's heavier users: I have over 320 Google Reader feeds and several Twitter accounts; a few of the latter are spoof accounts that each have a few thousand reply-happy followers. (No, outside of the @MacworldBiz account, I'm not telling you which ones are mine.) These slow-downs don't happen often, though, and they're easily fixed with a quick Socialite restart.
Socialite has greatly simplified my Internet socializing. Instead of visiting a bunch of different sites or apps, or tediously logging in and out of multiple accounts, I can keep up with the online adventures of my friends, family, and peers, and publish my own content, from a single app. Although there are other services Socialite could support, so far the company has chosen to support a few services very well rather than including limited support for as many services as possible. Here's hoping Realmac Software will add more fully-supported services in the future.