With the World Cup getting underway in South Africa this week, soccer fans can look forward to a month's worth of high-profile games, drama, and—best of all—second-guessing coaches for their tactical and lineup decisions. But you don't have to restrict your second-guessing to the couch or local sports bar—several iPhone apps let you put your managerial skills to test. I looked at three of these soccer managerial "text sim" games, and found each have their own set of strengths and weaknesses for both casual and diehard players.
In the sports "text sim" genre of games, players take over the traditional roles of both general manager and manager and lead a team to success both on and off the field. In sports like baseball and football, for instance, this means trading and drafting players. In the case of the soccer games I reviewed, it means buying and selling players. No matter the sport, the objective is to win the league and continue to lead your franchise to success so long as you remain at the helm.
While games like Football Manager and Championship Manager are popular among desktop PC and Mac gamers, the games are relatively new to the iPhone platform. I spent some time fine-tuning my management skills with Sports Interactive's Football Manager Handheld 2010 and Eidos Interactive's Championship Manager 2010 Express—both portable versions of the popular computer games—as well as Fizz Software's Soccer Manager.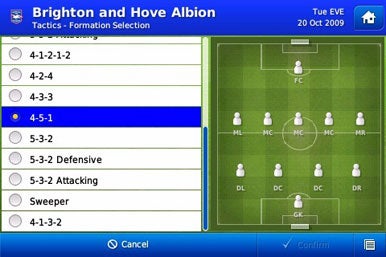 Football Manager offers teams in 34 different leagues from 11 different countries. What's more impressive is the depth of the game—this truly is a portable version of the much larger version you would play on your PC or Mac. And you can do almost anything in the iPhone game that you can do in the desktop version, including buying and selling players, setting tactics for each game situation, soliciting feedback from your assistant manager, and scouting for new transfer targets. Your career lasts for 25 seasons, at which point you will be inducted into the Hall of Fame—if you're eligible.
If you're new to Football Manager, the depth can feel overwhelming at first. It's an engrossing experience. I began a career with English side Brighton and Hove Albion, a team which plays in League One, the third tier of the English soccer pyramid. I managed Albion to a respectable mid-table finish in the most recent desktop version of the game and wanted to try my hand at doing the same in the handheld version.
The experience of setting a lineup, purchasing and selling players, and scouting youth prospects was easy to pick up and learn. The process of setting a lineup was somewhat frustrating, however, because the iPhone game frequently had difficulty distinguishing between scrolling through my roster and dragging and dropping a player into his position. The game's manual suggests dragging a finger diagonally and then vertically for a drag and drop; I found this workaround to be somewhat helpful.
All the elements typical of a game that sucks you in are here: debating strategy, interacting with players and applying for jobs with more prestigious clubs, for example. While my Brighton team struggled through the season, I found myself engrossed in the handheld version almost as much as I would be with the regular desktop version. Football Manager automatically saves your game once a week, which allows for easy pick-up-and-play game sessions.
While Football Manager Handheld 2010 includes most of the elements of its desktop sibling, a few elements are missing due to size constraints. Pre- and post-match team talks and media interviews, are important parts of the desktop game but their exclusion here hardly changes the feel of the game. There's so much else to do in Football Manager Handheld that you're not likely to miss these few absent features.
You play Football Manager entirely in landscape mode. This makes it easier to follow the action on game days, when your players appear as little dots dribbling and passing the ball as they race down the pitch.
The game includes a rather thorough manual, which you access from the game's main screen. The manual offers tips on game strategy and coaching styles, among many other topics, and even veteran players may turn to the manual for guidance on how to access options. For example, to manually save my game, I had to find the "save game" button, which was hidden on the game's options screen—not often the first place one looks for a such an important function.
While the Football Manager series boasts incredible depth, that aspect can also be frustrating at times, like when you stumble across a questionable interface decision or a simple bug. For example, I demoted several players from my first team to my reserve squad. After doing so, these players no longer appeared on the roster screen. It seemed as though they had disappeared. I found them eventually on my team training screen and promptly promoted them to my first team. Later I submitted a $10,000 bid to buy a promising youth player from a rival team. I got conflicting messages—one informing me that the bid was accepted, the other telling me that my offer was "totally unacceptable." I only ran into this bug once during my testing, though.
To its credit, Sports Interactive has released a number of updates for the game since its initial debut. These updates include bug fixes and, in the most recent update, the addition of the game's manual. The Football Manager series has an avid fanbase at message boards and community sites, and Sports Interactive fixes many of the issues fans discover while playing the game.
Football Manager Handheld 2010 is an absolute blast to play. The game serves as an introduction to the series for new players or an enticing portable option for veterans of the desktop series. Football Manager's draw is so strong that players find themselves engrossed in the game, even without knowing much about the sport. That certainly holds true with the iPhone version, which is about as engrossing a game as you'll find on the platform.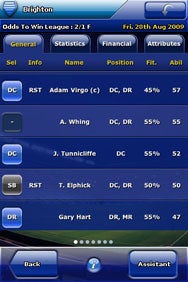 Championship Manager 2010 Express by Eidos Interactive is truly an "express" version of the larger desktop version. The game doesn't feature the depth of Football Manager, with leagues in just four countries: England, Spain, Italy, and France.
Still, Championship Manager is pretty engaging in its own right. One of the highlights here is the game's use of personality types. When you start your managerial career, you're asked to select three different key traits. Available traits affect your entire game experience and include things like media handling, technical prowess and man management. Each attribute is based on a famous real life manager and offers both benefits and hindrances to how you play the game.
The other major standout feature of Championship Manager 2010 is its optional Season Live feature. This feature, available for a one-time fee of $2, downloads the latest rosters and transfers from your league's real life counterparts each month. (I did not test this feature because I installed CM 2010 after the 2009-10 European seasons had ended.)
While Football Manager omits press interaction in its iPhone version, Championship Manager 2010 does not. You can call press conferences to discuss your team's performance or recent signings. Your handling of these media sessions impacts the view your players and the club's fans have of you. Handling the media makes for a fun game-within-the-game as your prepare for your team's next match.
Championship Manager 2010 only runs in portrait mode. Players appear as little dots running around the screen during games. The limited screen real estate means you'll swipe your finger frequently to see everything. Championship Manager 2010 includes a helpful drop down "quick menu," which is accessible from any screen—a welcome addition for quickly returning to the main menu or your team roster.
Championship Manager 2010 Express is an enjoyable game for fans of the series. It lacks the depth of Football Manager but offers exclusive features which are attractive in their own right.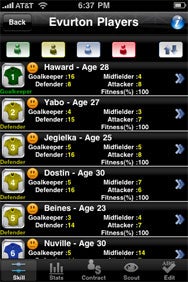 Fizz Software's Soccer Manager is also an enjoyable game, but it lacks the overall depth and polish of the other two games here.
Perhaps the biggest difference between Soccer Manager and the other two games is Soccer Manager's lack of official team and player licenses. Manchester United appears as "Menchester Utd" and star striker Wayne Rooney is "Raoney." The names are always just a letter or two off— frustrating, since the other two games reviewed here officially license that sort of thing.
Soccer Manager does include an editor but I could not find a way to change names en masse. I took control of Everton and changed the entire roster's worth of names in about 15 minutes. The game is certainly playable without accurate team and player names, but fans longing for authenticity will prefer the other offerings.
Gameplay in Soccer Manager is engaging but somewhat more simplistic than Football Manager and Championship Manager. For example, while the first two games include dozens of attribute ratings for each player, Soccer Manager assigns each player just five ratings—one for each of the four positions and a fifth for overall fitness. These attributes are visible for all players, thereby eliminating the scouting element which plays such an important role in Football Manager and Championship Manager.
I also ran into a problem while trying to purchase players from other teams. Soccer Manager would not allow me to alter the "suggested" bid for each player. For example, Arsenal's Cesc Fabregas is valued at $6.34 million. Soccer Manager would not allow me to alter the bid in any way—I could not increase or decrease the bid nor could I tap and type in a bid. Negotiating the transfer market is a key element in the "text sim" genre, and this lack of flexibility really hindered my enjoyment.
Soccer Manager costs more than Championship Manager and half of Football Manager and yet lacks the polish of the other two games. It's a fine, simple game in its own right, but it just doesn't measure up to other offerings on the App Store.
[Macworld contributor Brendan Wilhide covers the sports industry and social media on Sportsin140.com.]