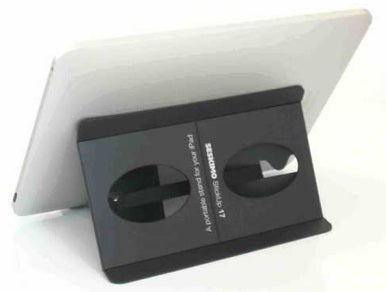 Seskimo is a little company in the UK that makes the Crabble, a clever fold-up stand for the iPhone. I'm a fan of my Crabble, and I'm looking forward to picking up the company's new StickUp stand for iPad.
The StickUp takes the same minimal, portable philosophy of the Crabble to the iPad. Weighing in at just two ounces, it can easily fold up to fit in your pocket. But unfolded, the StickUp can be adjusted to prop up the iPad anywhere from 30 to 80 degrees—great for anything from typing to watching a moving. It also supports the iPad in both portrait and landscape views.
The StickUp's open design should also be friendly to any cases or sleeves that you use to protect your iPad.
The StickUp is available now for £25, or about $30, with worldwide shipping at £1.35 (under $2).