Those who've purchased an HDTV understand that when making such a purchase you don't simply buy the TV. You have to upgrade your cable or satellite TV account for HD. And since you have this glorious picture, are you really going to settle for the weak stereo sound built into the TV or cough up the money necessary for a surround-sound receiver and speakers? And then there's the hunk of furniture large enough to hold the thing.
The iPad has a similar power to compel change. After a couple of months with Apple's tablet, these are some of the changes it's wrought in my life.
Sitting pretty
When Steve Jobs first demonstrated the iPad he didn't do so standing up. Rather, he settled into a comfortable chair and rested the iPad against a crossed leg. And he did because the iPad's easiest to command when it's nestled in your lap. Regrettably, that position isn't good with an office chair and will eventually get tiresome even in a swank leather chair like Jobs'.
No, to my mind, the perfect chair for the iPad is one that you can adjust to support your legs while, at the same time, allowing you to recline slightly. And no chair I can think of handles that job better than that icon of the 70s—the beanbag chair.
I chose Sumo's $149 Omni model. Available in 10 colors, this large (5.5 by 4.5 feet) beanbag chair is covered in ballistic nylon and filled with polystyrene foam beads. Place it against a wall and you can make a couch shape. In a standalone position you can turn it on its side and fashion a lounge chair. Either way, you can mold the chair into a form that allows you to work with the iPad without straining your neck, back, or arms.
Working it out
Much as I love my job, it can be a sedentary pursuit and, after awhile, it starts to show in added weight and shorter breath. I'd resolved to get more exercise this year and to do that I acquired an elliptical trainer. Like most people who purchase exercise gear, I used it religiously for a couple of weeks and then slacked off. The iPad has brought me back to it.
I have a Sole E55 elliptical trainer, and it has a couple of features that make it iPad friendly. The first is a passthrough audio system that sports a 3mm (miniplug) audio input jack and a 3mm headphone port. String a cable between the iPad and the input jack and then plug your headphones into the headphone port. Should you fall from the elliptical machine after a particularly draining workout, you don't risk pulling the iPad from its stand.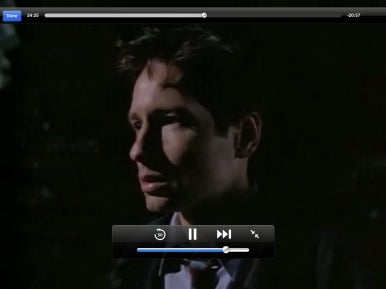 And that stand is the other attractive feature. The E55 has a large LCD display that tracks the progress of your workout. I find watching it about as enjoyable as staring at the clock in my fourth-grade civics class—when, in heaven's name, will this be over? But below that display is a shelf just deep enough to accommodate my iPad. Once on the machine I can fire up the Netflix app, access an episode of The X Files stored in my Watch Instantly queue, and sweat away in a nicely distracted fashion. Typically you find these kinds of machines at the gym, and just as typically they have similar shelves. Coupled with an iPad, they may compel people to take greater advantage of their gym memberships.
Think mobile
With its larger screen and faster processor, the iPad is a better productivity device than my iPhone. As such, I wanted to use mine for real work rather than "work I have to do on my iPhone because I have no alternative." The hitch is that doing real work often requires moving files between devices, a way to open files in different applications, and an input device more flexible than the iPad's virtual keyboard.
To address the first issue, I resolved to get serious about Dropbox. Dropbox is a service that provides 2GB of free online storage as well as tools for easily syncing stored data between devices (including your computer). I've had a Drobox account for quite awhile but used it mostly for making large files available to friends and colleagues.
With the assistance of the Dropbox app for iPad and the Dropbox folder on my Mac, I have easy access to my documents on both my Mac and iPad. But you can't edit those documents in Dropbox. Fortunately, the Dropbox app contains a helpful Open In pop-over that allows you to open files stored on Dropbox in other applications. One app that's proven to be particularly helpful is DataViz's $15 Documents To Go Premium – Office Suite. Using Documents To Go I can open and edit Microsoft Word, Excel, and PowerPoint files as well as text files bearing the .txt extension.
As for an input device, I wasn't a fan of Apple's $79 Wireless Keyboard ( ) until I acquired an iPad and spent a couple of hours typing on the iPad's virtual keyboard. While I'm faster typing on the iPad's keyboard than I am on my iPhone, I'm far faster still using a physical keyboard. Apple's Wireless Keyboard is small enough to put in an iPad bag, it carries Volume and Brightness keys that I find helpful, its Arrow keys make selecting text easy, I don't have to switch screens to type numbers and punctuation, and the battery lasts a long time.
Take a stand
I suspected that I'd use my iPad in a lot of different rooms throughout my house, but I hadn't thought much about where I'd put it in those rooms. For example, as the family cook, I've turned to Condé Nast's free Epicurious app and Weber's $5 On the Grill outdoor grilling app. But I generally have my hands full when cooking and need the iPad at a viewable angle.
It dawned on me that as I was using the iPad as a cookbook, it made perfect sense to place it in a cookbook holder stand. These things are sturdy enough to hold a heavy cookbook, and, unlike iPad-specific frame stands, some come with acrylic shields, which should protect your iPad when your cooking takes an adventurous turn.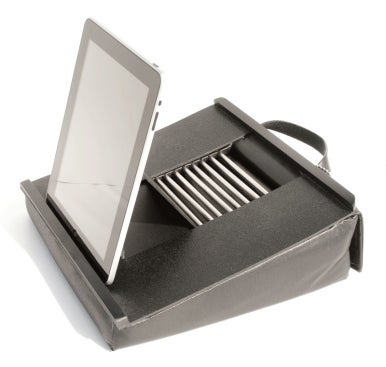 In the living room, I have a not-so-grand piano and, as those who own pianos understand, it operates both as a musical instrument and a place to hold pictures of your loved ones. As such, it's become the resting place for the family iPad, where it displays slideshows. I rest it in Apple's $29 iPad Dock so it can charge while acting as a digital photo frame.
The bedroom is a tougher nut to crack. While the iPad may be a great device for reading books, unless you sit straight up in that chaste Mike-and-Carol-Brady way, it's tiring to hold one for more than a couple of chapters. The cheapskate's way out is to plump up a fluffy pillow, place it at your body's mid-point, and prop up the iPad against it. If you care for a dedicated solution, you might look at Padded Spaces' $40 Prop It Up, an adjustable stand that works on your lap as well as it does on a reclined belly.
Making connections
I've used Apple's $49 AV cables in the past—mostly on business trips so I can watch movies on my iPod or iPhone on the hotel TV. I'm now using the Component AV Cable at home. Unlike with the iPhone 3GS and earlier, Apple allows third-party applications to output video via the iPad's dock connector port. One of those supported applications is the Netflix app. While I have Netflix on both the Mac mini and Blu-ray player attached to my AV gear in the family room, the back-bedroom TV has no connection to the Internet. Thanks to my iPad and AV cable, it now does.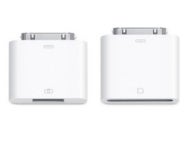 And then there's photography. In league with Apple's $29 iPad Camera Connection Kit ( ), the iPad is starting to change the way I take pictures. Typically I go out to shoot, snag what I think are some perfectly wonderful images, return home, review the pictures on my Mac, and throw out nearly every one of them because I've failed to focus correctly or misjudged the light.
I can now toss the iPad in my camera bag along with the iPad Camera Connection Kit and, while on location, string a USB cable between my camera and the iPad dongle and review what I've shot. Real photographers can make judgements based on what's on their camera's display and in its histogram. I, however, am not a real photographer and the iPad gives me a helpful leg up so that I can make adjustments on-site.
What's next
Although I've made significant changes to incorporate the iPad into my life, work remains to be done. For example, while Dropbox and Documents to Go are a decent band-aid for moving and editing some files, that band-aid shouldn't be necessary. For a device that acts as a light-duty laptop much of the time, having to physically connect the iPad to my Mac to transfer and sync media and data seems archaic.
I'm also a little surprised that we haven't seen more speakers that include docks that accommodate an iPad. Most of the speakers designed for the iPod and iPhone can't hold an iPad and, even if they could, their dock connector port doesn't provide enough power to charge the iPad when it's awake. Ideally we'll see such speakers that not only provide good sound, but allow you to orient the iPad in landscape mode so you can comfortably watch videos on it. In the meantime, Bluetooth speakers may be the answer.
Home slice
In the two months that I've had the iPad, it's brought welcome changes to my life. When I'm not in my office, the thing is almost constantly at my side—ready to check e-mail, perform a casual Web search, and entertain and educate my family. I look forward to the additional changes it brings as Apple and third-parties find new ways to exploit its many capabilities.
[Christopher Breen is a senior editor at Macworld.]
Apple iPad Tablet Computer
iPad (2010)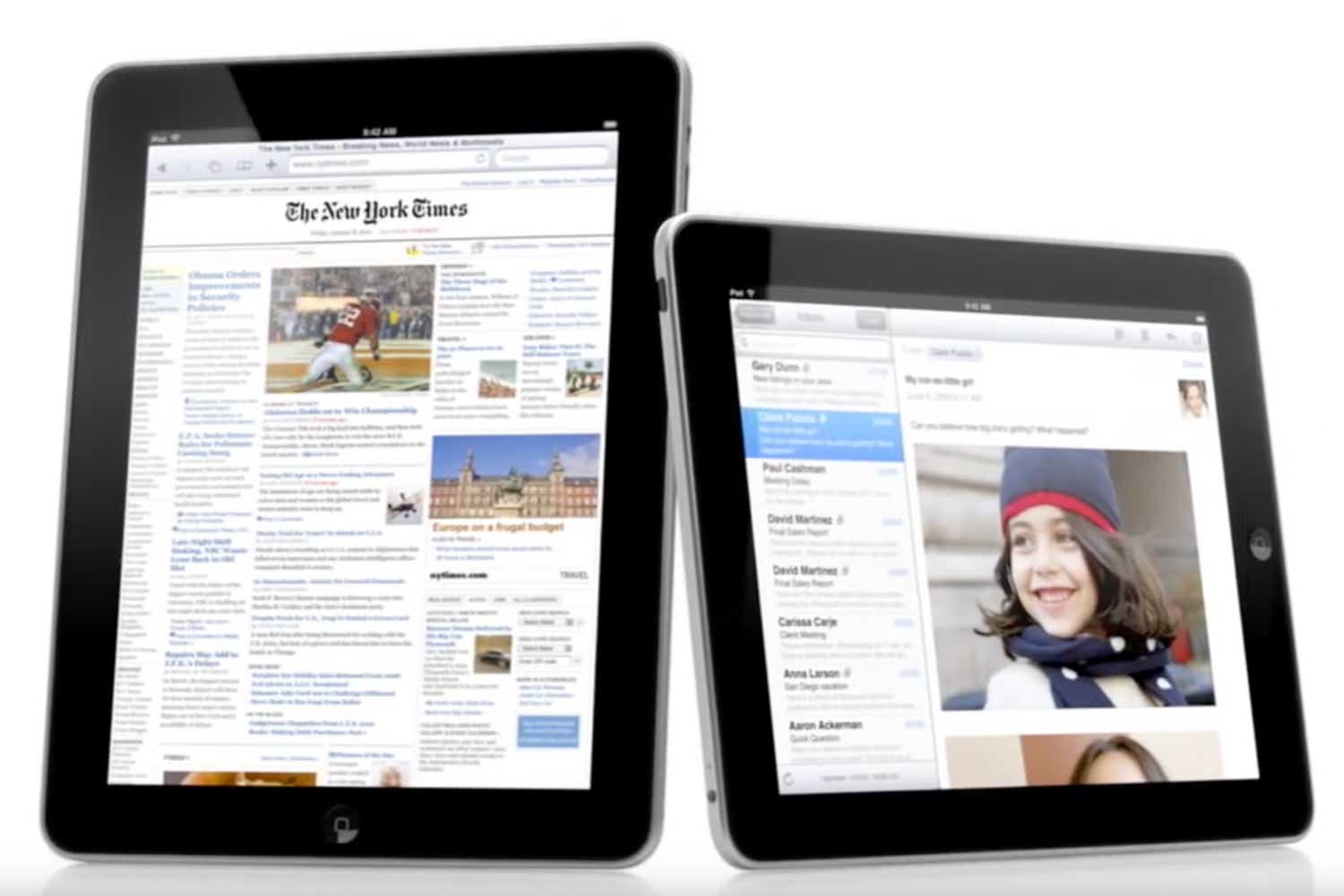 Read our full
iPad (2010) review
iPad with Wi-Fi 16GB
Price When Reviewed:
$568
Apple iPad Tablet Computer