Augmented reality company Layar is celebrating its first anniversary in June with a plan to make the fledgling medium easier to use and part of everybody's life in the years to come.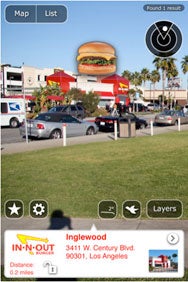 The company also wants developers to be able to make money from the software, co-founder Maarten Lens-FitzGerald, said in an interview.
Layar's smartphone software—which includes a free iPhone app—uses GPS, a compass, an accelerometer and a visual display recorded by the phone's camera. It overlays the display with relevant information or annotations, called layers, on the display. The layers can, for example, show visitors in Berlin where the Berlin Wall was located, give directions to the nearest restaurant or show apartments that are for sale.
"We have come very far in a short period, but we are still only at the beginning of all the possibilities that people can use augmented reality for," said Lens-FitzGerald, who is convinced that the technology will eventually make it into everybody's life.
Today, Layar has about 2 million users. To get more users on board, Layar last week announced the availability of Reality Browser version 3.5 for Android-based smartphones. The iPhone update will be available soon, according to Layar. The new version adds a feature called Stream, which shows users all the layers that are available around them in a list view, and ranks them after user preferences and popularity.
"While waiting for the bus or sitting at a restaurant waiting for a friend users can see what is going on around them, without having to go through the drama of holding up their phone," said Lens-FitzGerald.
Since augmented reality is in its infancy, people are still getting used to it. However, a year from now, people around you will know you are not trying to take a picture of them, but looking at the world using an augmented reality application, according to Lens-FitzGerald. Augmented reality will go through the same social evolution that has made it accepted behavior to use mobile phones in public, he said.
Key to getting more users is convincing phone makers to pre-install the Reality Browser on their smartphones. Samsung's forthcoming Galaxy S will come with the client. More deals are in the works, but Layar isn't ready to give any details, according to Lens-FitzGerald.
The addition of Stream will also be a boon for developers, because it will be easier for users to find their layers. Layar, like so many others in the post-App Store world, stands and falls with its ability to attract developers.
Today, 3,500 developers are working on layers for Layar, and that number is growing by about 20 percent per month, Lens-FitzGerald said. Approximately 700 layers have been published to date with several thousand more in development, according to Layar.
To help developers, Layar has set up a partner network. Up until now layers have been free for users. The recent addition of paid layers will also help make Layar's platform even more attractive.
"You can now spend two months on developing a cool augmented reality game or a tourist guide, and then make money on it," said Lens-FitzGerald.
Layar's store is integrated into the Reality Browser, and can now accept payments from users in the U.S., U.K., Canada and Australia. More countries will be added as soon as can get payment methods in place, according to Lens-FitzGerald.
On June 18, Layar will celebrate its first birthday in Amsterdam at the Layar NEXT event.