Read It Later, an app that saves article links for future perusal, has been updated to run natively on the iPad. Previously available for the iPhone and iPod touch, version 2.1 of the app is now universal for all of Apple's iOS devices.
The iPad-optimized update takes advantage of that device's screen real estate; it also offers a new feature called Digest, which groups saved articles into categories and presents them in an appealing visual layout.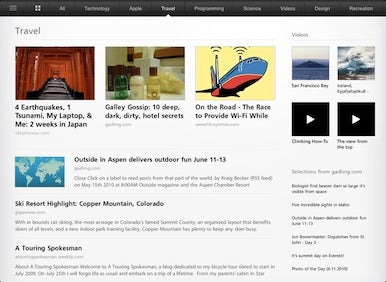 Nate Weiner, the developer of Read It Later, originally created the service for desktops and laptops. Like its popular rival Instapaper, Read It Later first asks you to create an account. You then add a bookmarklet to your browser, clicking it whenever you're on a page that you want to save. You aren't limited to just text; you can save video content, too.
The Digest feature reviews the articles in your list, and groups them into categories you've created. Read It Later then generates a kind of customized newspaper, and will even highlight trends in your list, creating a special section for items that come from a particular source. If the Digest view isn't efficient enough, Read It Later still provides the old list view, which has sorting filters.
As it did before, the app gives you the ability to read and view content offline. Read It Later downloads both the full Web page as well as a text-only version of your saved content.
Read It Later 2.1 is available in two flavors. The free version offers most functionality. Read It Later Pro, which costs $5, allows you to "tap to save" articles without having to open each link on a page. You also get a full-screen reader and some other minor features.
Both versions are available in the App Store. They require iOS 3.1 or later.