In Disney's Split/Second—a franchise that spans several consoles in addition to the iPhone OS—you play as a contestant on a TV show; the goal of this particular brand of game is to be the fastest driver in a car race that is littered with traps that you and your competitors will try to spring upon each other.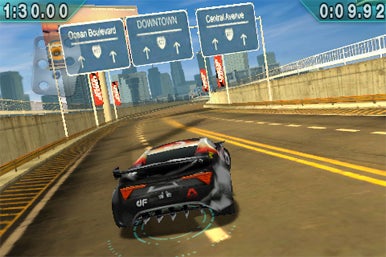 Sound silly? Well, the plot is a little thin, but it means that the developers at Disney spent as little time as they could constructing a premise so that they could focus as much as possible on the actual gameplay, which, after all, is what matters.
Split/Second is an enjoyable racing game with a breakneck pace, stunning visuals and easy to understand controls. The basics of the game are the same as any other of its genre: you drive a car through a series of "episodes," each made up of several stages, advancing from one to the next as you win races. Mercifully for those of us that are all thumbs, the only controls at your disposal are the steering, which you effect by rotating your device, and braking, which takes the form of a pedal icon on the screen. Acceleration is taken care of automatically by the game, and there is no gear shifting to worry about.
The game's unique feature are its "powerplays," which are special actions that you can trigger to hinder your competitors as you race. Powerplays take many shapes and forms: explosions, demolitions and even the timely displacement of the occasional large object are all available for your destructive pleasure—so long as you accumulate the power to activate them through aggressive driving. A strategic tap of the right powerplay button will cause your opponents to crash, fly and, on at least one occasion, take an unscheduled trip onboard a ship that, unfortunately for them, is travelling in the wrong direction. Sadly, the same power is also in the hands of said opponents, and they will take advantage of it, making the game extraordinarily challenging and difficult to win.
Thus, powerplays are also Split/Second's weak link, particularly given that, in most cases, they can only be triggered against an opponent that is in front of you. This means that you can only use them to slow the competition down, rather than to give yourself a direct advantage, particularly when you are in the pole. Conversely, traps are sprung on you with little or no warning, and no easy way of preventing the other players from triggering them, so that the game often feels futile, frustrating and vaguely reminiscent of Nintendo's Mario Kart and its infamous (and much hated) blue turtle shells.
Split/Second doesn't require a late-model iPhone OS device, as it sports perfectly good performance even on the iPhone 3G and first-generation iPod touch. Despite the stunning graphics and engaging soundtrack, however, the game is unlikely to appeal to the casual gamer due to the frustrating gameplay, and it's probably going to test the patience of more experienced gamers thanks to its rudimentary controls and chaotic gameplay.
[Marco Tabini always grabs the checkered flag.]