Anyone looking forward to using their iPad for work in place of a more traditional notebook may have one more reason to do just that. The mobile productivity company Quickoffice has released Quickoffice Connect Mobile Suite for iPad. This app lets you create, manage, edit, and view documents compatible with Microsoft's Office suite. It also has built in support for multiple online storage services including Dropbox, MobileMe, Google Docs, and Box.net with drag-and-drop file management capability.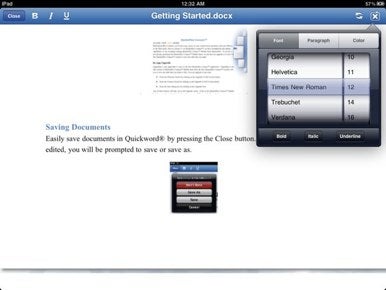 While some users of the iPhone app may find it a bit of a downer that they can't upgrade from their current version to the iPad release—not without paying the $10 download fee—the company says Quickoffice Connect Mobile Suite was made with the iPad in mind. This means the app is not a port, but rather that it was built to take advantage of the additional screen space that the iPad provides with an interface the developer dubs SmartTouch.
The app also features Power Edit Mode which lets you perform quick formats and edits throughout a document or spreadsheet from a toolbox, Single Screen Viewing to navigate through your files and folders akin to using the column view in Mac OS X, and Advanced Touch Control for file management operations.
File transfers to and from the iPad are facilitated through any Web browser without the need for a specialized desktop companion app. iTunes USB file transfer is supported as is Document Sharing for opening e-mail attachments in Quickoffice.
For the moment, Quickoffice Connect Mobile Suite works with Word and Excel compatible files, including the newer .docx and .xlsx formats, but the ability to create and edit PowerPoint presentations will come as part of a free update later this year. Currently, support for PowerPoint files is limited to accessing and viewing them.