A company that provides antivirus offerings for PC users is bringing a free link checker to the Mac.
AVG Technologies plans to unveil a Mac version of AVG LinkScanner, a free download that scans Website links for potential threats. AVG says its LinkScanner application checks Web pages in real-time, posting a warning to users if the software finds a Website that could pose potential problems.
"Every single time you click on a link, any time you're accessing information on the Internet, we scan it, looking for malware and phishing attempts," J.R. Smith, CEO of AVG, told Macworld.
AVG's software doesn't rely on blacklisted sites that have been flagged for potential harmful content. Rather, the application uses real-time checking to alert users to potentially problematic sites. The company relies heavily on a large user base—tens of millions of users, according to AVG—to ensure users are surfing to secure Web pages.
Mac users have lived largely free of malware and viruses, as malware creators have focused on attacking more widely used platforms. That figures to change as the Mac becomes a more widely used system, thanks to the growth of both OS X and Apple's mobile iOS. But the real threat is posed by the growth of social networking sites that increase the risk Web surfers could fall prey to phishing and other malicious attacks.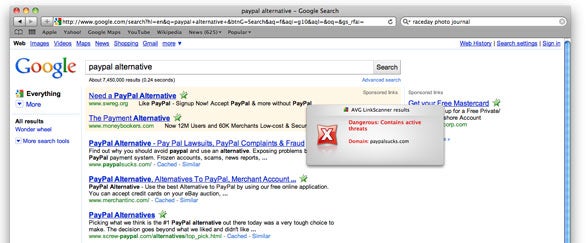 "We're not here screaming that Macs are vulnerable," said Smith, adding that like any platform the Mac OS has its vulnerabilities. Rather, Smith continues, the threats posed by attacks via social networks threaten users regardless of platform. "We're protecting people in some cases from themselves."
Look at the increasing prominence of shortened URLs, Smith said. Savvy Web surfers used to be able to look at a URL and spot a potential phishing attempt; condensed URLs make that harder to do. "You can't see [the full URL]," Smith added. "You can't be your own policeman."
The free download of AVG LinkScanner is designed for Mac OS X 10.5 and 10.6; it runs on Mozilla Firefox 3.x and later as well as Safari 3.x and later, including the newly released version 5 of Apple's Web browser.