Air Display for the iPad—an app that lets you use your iPad as a virtual extra monitor for your Mac—is magical. For a moment.
But then the limitations of such a setup become rather more apparent. It's a charming idea, an excellent iPad parlor trick, and could even prove genuinely useful in a variety of unique use cases. But in my testing, Air Display isn't an ideal long-term second monitor solution.
First, here's a rundown of how you get started with Air Display. After you install the $10 app from Avatron Software, you're not quite finished: You also need to install a Mac OS X System Preferences pane (freely available from Avatron's Web site). After you install the preference (which also installs certain drivers the OS needs to pretend that the iPad is an external monitor), you'll need to restart your Mac.
Once the software is installed, starting your multi-monitor setup isn't too complicated. You launch the Air Display app on your iPad, and then use the new Air Display menu on your Mac to select the iPad. Unfortunately, the app doesn't remember iPads it's connected to in the past, and thus doesn't auto-connect to your iPad. Since the app only works on shared local Wi-Fi networks, and then only when the Air Sharing app is running on the iPad, it ought to connect automatically; as is, it's a manageable annoyance.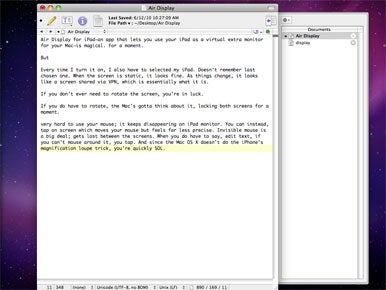 After you're connected, Air Display definitely works as promised: In just a moment, your Mac has a second monitor. In System Preferences, you can adjust the layout of your new iPad monitor just as if it were a real one. Of course, it's not a real monitor, since it's connected with nary a cable in sight. Because of that wireless setup, screen quality suffers: when the iPad's screen is static, it looks fine. If you try to watch video from your Mac with the iPad monitor, though, image quality takes a hit. It's certainly passable, but you'll drop some frames, and the video will generally be ever so slightly behind the audio coming from the Mac itself.
You can use the iPad in either orientation. Of course, if you rotate your tablet while already using it as a monitor, your Mac will need to think about that for a moment as it adjusts its resolution—a process which locks both screens. Frequent flipping gets tedious fast; I'd advise figuring out the setup you want and leaving it that way.
Depending on your wireless setup, you may encounter an issue I saw a couple of times in my testing: when attempting to use the mouse on the iPad monitor, I'd occasionally lose sight of the cursor completely. Slower mousing, restarting the app, or restarting the Air Display process on my Mac all seemed to help resolve the issue when I encountered it.
You can also tap on the iPad screen to move the cursor. I found this tricky to use while, for example, editing text. That's because Mac OS X doesn't offer the slick "magnification loupe" that the iOS employs for that purpose. You can't zoom within Air Display, either.
I already have a dual-monitor setup at home. I could see some utility in setting up the iPad as an extra screen, perhaps holding apps like the OS X calculator or your Stickies. Of course, if you want to use the iPad for anything else, you'll quit the Air Display app, which causes your Mac to think for a beat as it adjusts. Any windows you'd left on that second screen now jumps back to your main screen instead. That means when you're ready to re-connect the iPad, you'll need to launch the app, choose your iPad from the Air Display menu, pause while your Mac adjusts, and then drag any apps you'd prefer to see on the iPad screen back over again.
I'm not saying that's impossible, but I am suggesting it's too much of a hassle for a viable, long-term display solution.
If you don't have a second monitor and need one on very rare occasion, Air Display can definitely work in a pinch. But I'd rather keep my iPad free to run all my other apps.
[Lex Friedman is a frequent Macworld contributor with his very own blog.]