Watching video on the iPad's large screen is certainly a step-up from the iPhone or—horrors—a fifth-generation video iPod, but now you're confronted with a new problem: how much can you store on your device? InMethod's Air Video helps eliminate that dilemma by allowing you to stream video over the network from your home computer. No more syncing, no more making sure you erase old videos to free up space, and, best of all, you don't even have to convert videos into a compatible format.
Air Video consists of two parts: a sever program that runs on your home Mac or PC and a single app that runs on both your iPad and iPhone. The app comes in two flavors: a free version that limits the number of videos listed to three and a $3 full version with no such impediment. The iPad and iPhone versions are almost identical in functionality, differing mainly in the interface.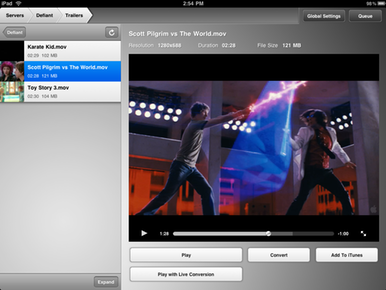 Setting up the server on your home computer just involves installing the application and pointing it towards a folder of videos or an iTunes playlist. You can also set a password, enable access from the Internet, and configure how subtitles should appear. Depending on your network configuration, you may have to change some of your router's settings (such as port forwarding) to get Air Video to work outside of your local network; fortunately, InMethod provides a quick tutorial on how to do so.
After configuring the server, you launch the app on the iPhone or iPad and configure it; Air Video lets you skip entering all the nitty-gritty networking details by providing you with a Server PIN that you can enter to automatically set up the app. With that done, you're free to browse your list of folders or iTunes playlists 'til your heart's content.
Of course, the real strength of Air Video is playback, and it works so simply that you might be tempted to call it "magical." As most owners of portable Apple devices are aware, the iOS's support for video playback is slim: Apple pushes the H.264 format as the flavor of choice. As such, when you load videos onto your device, you either have to use videos already formatted for the iPhone/iPad (such as those from the iTunes Store) or you have to convert your pre-existing videos to a compatible format.
Air Video's server software can convert videos to a compatible format for streaming. In fact, the mobile app even lets you queue up a slew of videos for your computer to run through. Once a video's been converted, you can just tap the Play button, and you'll be whisked away to the iOS's standard video player, which allows you to play, pause, jump around in the timeline, adjust the volume, and toggle in and out of fullscreen mode.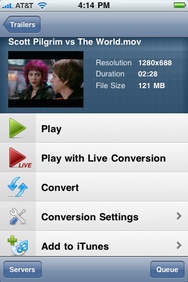 However, even more impressive is Air Video's "Play with Live Conversion" feature, which does exactly what it says: streams a video directly to your device without you having to wait for it to be converted. Air Video supports an alphabet soup of formats, too: from MOV and MP4 to AVI, WMV, MKV, DiVX, and more. The one thing it can't convert, however, are DRM-protected videos like the ones you buy from the iTunes Store.
In my tests, the live conversion feature works incredibly well, though it depends on the quality of your network connection. On a slower connection—such as a 3G network—the video will often start out blockier and then improve as you continue watching; on a strong Wi-Fi connection (such as on a local 802.11n network), the video looks more or less perfect.
If you have problems, you can adjust the data rate of playback: Air Video offers a list of options ranging from a 64 kbps audio-only stream all the way up to a hefty 2048 kbps; you just check off the ones you want Air Video to use. I found deselecting higher data rates helpful when I was on a very spotty network; the video quality drops, but at least it plays smoothly. You can also pick the quality of the offline conversions and even have the video cropped to a specific size.
I did run into some glitches with Air Video—sometimes the stream is a bit choppy, on rare occasions the video and audio get out of sync, and once or twice it cut off the end of a video. But overall, it works astoundingly well, and the option to have it on both the iPad and iPhone is great—while the former clearly has a better display and speaker, the latter is super handy for watching videos while on the exercise bike at the gym. Personally, I just like being freed of the tyranny of remembering to sync videos to my device before I leave the house; it feels like the future.
[Macworld senior associate editor Dan Moren can now watch videos everywhere.]