For whatever reason, Apple decided the initial iPad would ship without a built-in camera. It's kind of like getting a peanut butter sandwich with no jelly—still good but you really wish you had the jelly.
If you find yourself disappointed by the omission of a camera, you may want to consider an app-based work-around from Headlight Software.
The $1 Camera For iPad is a universal app that lets your iPhone act as a camera for your iPad. You just open the app on both devices and whatever the iPhone's camera sees will be streamed to the iPad's screen via Bluetooth or a shared Wi-Fi connection. (The app automatically finds other devices with which to connect.) You can zoom in on that image on the iPad screen by using a reverse pinch gesture; swiping will rotate the image.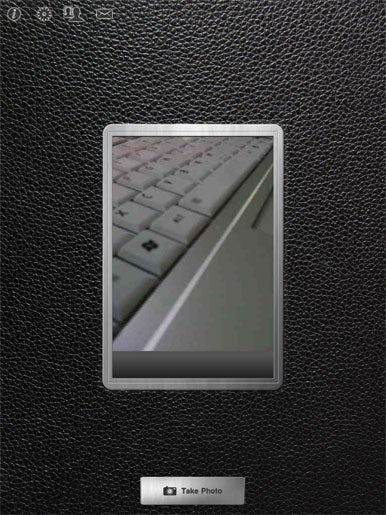 You can take a picture from either your iPhone or iPad by tapping the shutter button on either device's screen. Once the button is pressed, the iPhone's camera snaps a picture—it's then sent over to the iPad's photo library.
The process can be a little slow over Bluetooth. Things speed up a little bit over Wi-Fi, though it's still a slow process overall. You can lower the picture quality to speed up photo transfers, though I found that caused my images to suffer. (You can also opt to have the pictures stored only in the iPhone's photo library and not sent to the iPad—which would seem to defeat the purpose of the app, although I suppose some people might want to just use the iPad as a remote shutter control for their iPhone's camera.)
Camera For iPad also offers a flash feature that, when activated, makes the iPad's screen turn completely white to act as a flash when you take a picture. A mirror button on the iPad will flip the streaming image so you can use the two devices together like a digital mirror. There's also a button that will snap a picture, transfer it to the iPad, and insert it into an e-mail that you can send to your friends.
Pictures taken with Camera For iPad look great. The app also has an attractive interface that's easy to use. I found it a little annoying that I had to enable Bluetooth before the app would work on either device even though I was using Wi-Fi to connect my two devices. Still, if you're don't want to wait for Apple to add a camera to the iPad—and you also happen to have an iPhone handy—this $1 app offers a decent solution.
[Tim Mercer is a technology enthusiast, graphic designer, and blogger, whose blog, digital-artist-toolbox.com, offers free resources to the digital artist and graphic designer.]