If you're into history or just like to learn something new everyday, you might enjoy Today's History, an item-of-the-day app from developer Skyler Lehan. But you'd be certain to enjoy the free app more if it delivered on some of its promises.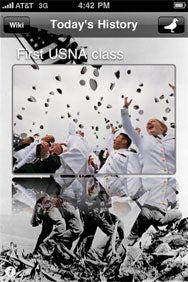 Today's History is simple and straightforward. Launch the app, and a picture of the planting of the flag at Iwo Jima serves as the background. After a few seconds of load time, the historical event of the day appears with a descriptive photo.
May 17, for example, was the anniversary of Brown vs. Board of Education, the Supreme Court decision that effectively ended racial segregation. An iconic photo of segregated drinking fountains illustrates the event, but that's the only thing there.
And that's a problem. The App Store entry in Today's History promises a short description for the event to accompany the photo. But in my testing, that short description never appeared—not for the aforementioned Brown vs. Board of Education entry nor for subsequent entries in June commemorating Secretariat's Triple Crown win, the opening of the U.S. Naval Academy, or the siege of Troy. All the app offers is a picture superimposed on the Iwo Jima background—which makes things look a little cluttered, frankly.
For a little more dimension, Today's History offers a Wiki button that will open either the event's Wikipedia entry or that date's entry. A bird icon lets you e-mail the event or publish it to Facebook and Twitter.
The app mentions push notifications in its full name. You can turn the feature on the first time you launch the app, and make adjustments in the Settings app of your iPhone or iPod touch. But again, Today's History doesn't deliver—in my testing I never received a single push notification for that day's historical event.
Today's History is could be an interesting novelty app for the iPhone, but the developer would do well to look into the issue of incomplete entries and unfulfilled promises.
[Meghann Myers is an editorial intern at Macworld.]