If you're one of those Type-A personalities whose quest for self-improvement leads you to track every cent spent, every minute slept and every push-up pushed, Daily Tracker from CVZ Productions might come in handy. But is the mobile data logger worth its $10 price tag?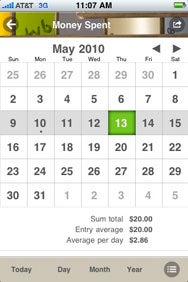 At first glance, Daily Tracker offers little that can't be done on the iPhone's free Notes, Maps, Calendar, Clock and Camera applications. The Health & Fitness function tracks your workouts, your moods and your calorie intake; the Sleep Tracker puts a stopwatch on your nap times; the Quick Notes function offers an Evernote-style ability to record your thoughts, pictures and locations.
The benefit of Daily Tracker, then, is that it puts all these functions in one place, rather than making you slide from app to app to record and plan your activities. If you're still put off by the price, the free Daily Tracker Lite offers you similar functionality, though you're limited to seven entries per tracked category.
There are some superfluous elements to Daily Tracker. The ability to check your RSS reader, for example, seems out of place. And the Daily Planner and To-Do List functions do the exact same thing, under different names.
Luckily, Daily Tracker is flexible enough that you can shed whichever functions you don't need, and modify others to serve your needs. Even a self-improvement app has room for improvement.
[Joel Mathis is a freelance journalist and political columnist for Scripps Howard News Service. He lives in Philadelphia.]