An app where users can share music, videos, and photos all at the tap of an iPhone screen sounds too good to be true. And unfortunately, at this point in the life of LoKast, it is.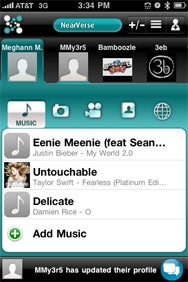 The free social networking app from NearVerse is based on a great concept: sharing media with the other iPhone users around you. The brilliance of that basic idea, though, is overshadowed by the app's shortcomings.
From the moment you first launch LoKast, it's as complicated as can be. The black and turquoise interface looks nice and was obviously thoughtfully designed, but the innumerable buttons and multiple pathways to get to each function just add to the confusion.
The first time you launch the app, the welcome screen features a whopping nine information sections, with a Quick Start guide, basic functions, and an explanation of the different things LoKast can do with 3G, Wi-Fi, and Bluetooth connections. You can also get the rundown for changing the settings, chatting with and downloading content from other users, and Featured Content profiles from musicians.
Once you've surmounted this massive pile of information, you can follow the homepage to the actual LoKast section, where you can edit your profile and add music, video, photos, and links. Scroll through the profile tabs to see other users nearby. Make sure to turn on LoKast Live in the settings, as well as enable Bluetooth and 3G media sharing.
Because the app is relatively new, you probably won't see a lot of people online at any given moment, but there's an onscreen button to invite friends. There are a few sponsored profiles from bands or music festivals, with different kinds of media to download. I would liken it most to a MySpace music account, but your content doesn't have to be original.
Then things get a little weird. I set up two accounts, one on an iPhone and one on an iPad, so I could send personal media to myself. I could get things up there, but songs from my iTunes library would only post 30-second clips. And then, I could only download them between profiles if they were from iTunes or CDs.
I understand that LoKast's developer wouldn't want pirated music on there, but why would I want to download a 30-second clip from another user? The consolation seems to be the "Download on iTunes" button, so I suppose LoKast can be used a little like Last.fm, in that you can discover new music from other users on the app, then legally download it from iTunes. Thankfully, sharing videos and photos is more straightforward.
Who knows? Maybe LoKast will catch on and be able to compete with all of the individual Web sites it attempts to combine. But as it stands now, there are quite a lot of kinks to work out before LoKast becomes user-friendly enough to generate a real following.
[Meghann Myers is an editorial intern at Macworld.]