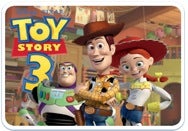 TransGaming, which has previously ported a number of major games to the Mac, has released two new, exclusive titles from Disney Interactive through its digital distribution portal, GameTreeOnline.
The new Disney Interactive games, Toy Story 3 and Disney Princess: Enchanted Journey are being offered exclusively through GameTreeOnline as digital downloads. Toy Story 3, which sells for $30, lets you take control of the movie characters Buzz, Woody, or Jessie, and play through various missions set in the Toy Story universe. Disney Princess: Enchanted Journey, which costs $22, lets you customize your own unique heroine and play through four levels to help the Disney Princesses restore order in their enchanted kingdoms and overcome evil. Both games require Intel Macs with OS X 10.5.8 or higher.
TransGaming is well known for its Cider Portability Technology, which it released back in 2006. Cider "wraps" itself around a Windows game, acting as a translation layer between the game and the Mac OS. This allows the game to run on your Intel Mac as though it were running on a PC, with minimal impact on performance, and perhaps more importantly, without the need for developers to rewrite and recompile source code for the game to run natively on Mac. These two Disney titles are only the most recent games to have been rapidly ported to Mac via Cider, and more are sure to come.