iTunes Digital Booklets are the PDF files that come with with some iTunes albums, and include lyrics and cover art. Unfortunately, they've been of limited usefulness since you can't really do much more than view them on the computer or organize them into a smart playlist. Come Monday, however, you'll finally be able to load them onto an iOS 4-capable iPhone or iPod touch—and Apple has kindly released a Knowledge Base article detailing how to do so.
To make it work, you'll need iTunes 9.2, iOS 4, and iBooks 1.1—leaving out the original iPhone and iPod touch, which iBooks won't support. It's interesting to note that the article specifically mentions the iPad as one of the supported devices—"sync your iTunes Digital Booklets to an iPhone, iPad, or iPod touch"—although the iPad won't get the iOS 4 until this fall.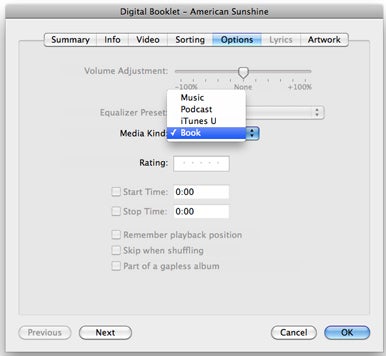 To add an iTunes Digital Booklet, you must first change the Media Kind of the file to Book in the Options tab of the Info pane, which will put the booklet into iTunes' Books library. From there, you can sync the files to the iBooks library of a compatible device.
Unfortunately, iTunes LP and iTunes Extras content still doesn't get the mobile treatment—the article says neither is compatible with the iPhone, iPad, or iPod touch.