Edittor's Note: The following article is reprinted from the Today @ PC World blog at PCWorld.com.
YouTube has a new bare bones video editing tool that allows you to clip your videos, and add a soundtrack right in your browser. The new tool, which follows in the footsteps of similar online video editors such as the now defunct YouTube Remixer powered by Adobe Premiere Express, is a bit limited, but if you want to add titles, transitions, and music to your videos, it will do the trick.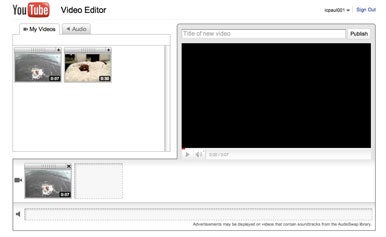 Keep in mind that the new YouTube Video Editor is still a work in progress, so you might get hit with a few bugs as you try it out. To get started all you need is your YouTube ID and a few of your own video uploads, as the video editor does not let you edit other user's material.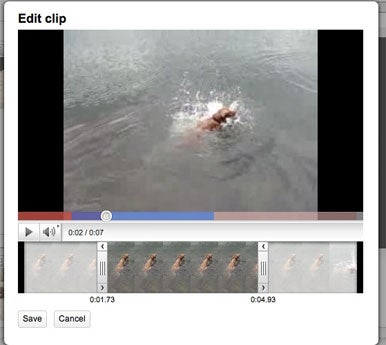 Clip your video
When you sign in to the YouTube Video Editor, you'll see a video tab with all your personal video uploads, and an audio tab where you can select music tracks for your new masterpiece. To start editing, just click and drag your videos down to the editing panel (where the camera icon is).
When you hover over the clips you've selected for editing, click on the scissor icon to launch your video in a pop-up window. From there, you can shorten or lengthen your clip by moving the sliders below the main video window. When you're done, just hit save, and the video editor will automatically merge your edited clip with the next video in your sequence.

To see what your edited clip looks like, you click on the player window on the right side.
Add some music
If you want to use a music soundtrack for your video instead of the recorded sound you picked up while filming, you click on the audio tab at the top to reveal YouTube's AudioSwap library. AudioSwap contains "tens of thousands of songs" that you can freely use in your YouTube videos. All you have to do is select a song and either drag it down to the soundtrack editor or just press the plus sign to the right of each title.
AudioSwap is a handy feature, but don't expect any big hits from major labels like Warner Music Group. Most of the songs in the AudioSwap library are by pretty obscure artists, though I did find a few recognizable names among the unknowns, including Nine Inch Nails, Cowboy Junkies, and everybody's favorite rodent-centric band, Alvin and the Chipmunks.
You should also note that some AudioSwap tracks are subject to licensing agreements, which means YouTube may include advertisements when certain tracks are used. You also can't edit the AudioSwap track, so the song will only play from the beginning until your video stops.
Once you're done editing your video, you just give it a title, hit publish, and YouTube takes care of the rest.
As the new editing tool matures, it would be nice to see more features such as the ability to add titles, transitions, visual effects, and more robust audio editing capabilities. But if you just need to shorten up your video or throw in a novelty soundtrack, YouTube Video Editor will do the trick.
If you're looking for online alternatives to YouTube Video Editor you can try Photobucket's Remix, which is another Adobe Premiere Express product. You could also check out the free online video editing tool JayCut, which has a YouTube export option.